Korea
N.Korea launches more missiles into Sea of Japan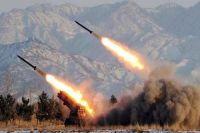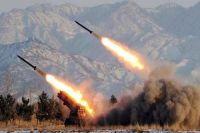 South Korea reported a new series of North Korean launches of their short-range ballistic missiles into the neutral waters of the Sea of Japan.
According to RT, the launches took place on Saturday morning between 07:00 and 07:30 local time (Friday 22:00-22:30 GMT) from Chagang province bordering China in the north and from a position near the coastal city of Wŏnsan.
The missiles flew about 210 kilometers before ditching in the Sea of Japan. South Korean experts believe these were new missiles, different from North Korea's existing KN-2 short-range ballistic missiles and the 300mm multiple rocket launcher system Pyongyang already has.
There have been 19 launches so far this year -111 missiles altogether. The last launch occurred on September 1.