Iran
N-talks will continue in Davos, Munich: Zarif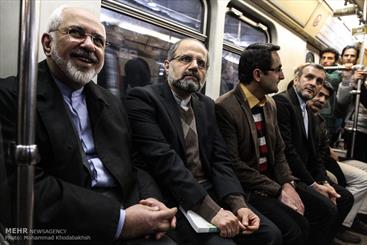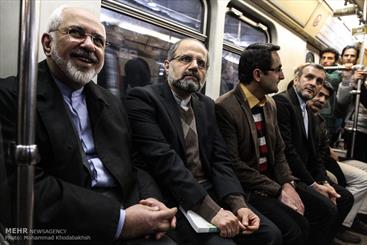 Iranian FM has said nuclear talks may continue in the upcoming World Economic Forum in the Swiss city of Davos, as well as the Security Conference in Munich.
On the occasion of Clean Air Day Iranian FM Mohammad Javad Zarif took the subway to work in a symbolic move and in the meantime responded to the reporters' questions.
He emphasized that the general framework of the negotiations were clear now and the issues of enrichment, lifting of sanctions, and continuation of Iran's nuclear program have now been fully recognized by the other side. He added the talks would proceed to discuss the details in the next few months.
While asserting that the negotiations have reached a level of complexity and difficulty, Zarif deemed this phase of talks 'the most difficult and problematic level'.
Zarif, however, stressed that "the other side has to accept that a solution to the nuclear issue through negotiations is only possible if they would stop their coercive policies."
Decrying the recent Israeli attack to Golan Heights, Iranian FM asserted that Israel's survival depends on 'creating regional crises' and tensions.
"The Zionist regime is afraid of peace and stability in the region. They have been most concerend with Iran and the six states nuclear talks and are making great endeavor to prevent the negotiations from proceeding," he added.
Regarding nuclear negotiations with 5+1, Zarif said he was likely to hold brief negotiations on the sidelines of Davos World Economic Forum (WEF), and then in Munich Security Conference.
He also dismissed President Rouhani's attendance in WEF in Davos, maintaining that Mohammad Nahavandian, head of president's office would represent Iran in this conference.
The Iranian foreign minister expressed hope that favorable results would be attained in due course of time regarding the nuclear issue, although the prospect of an agreement might seem very difficult to achieve.