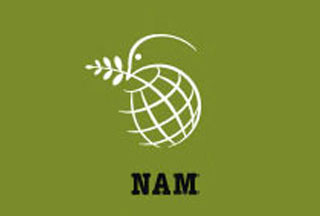 Ambassadors of the Non-Aligned Movement countries in the United Nations held a meeting in New York on Thursday over Iran's nuclear program.
Participants of the meeting which was headed by the Egyptian Ambassador to UN, announced their support for the Islamic Republic of Iran's nuclear work, stressing that all NPT member states should enjoy equal nuclear rights.
IRI's permanent representative to UN Mohammad Khazaee said Tehran is ready to continue the Geneva talks based on Iran's package of proposals, stressing that the Iranian nation would not relinquish its nuclear right.
He said Tehran is still committed to the international regulations and its obligations but it would not tolerate political and economic pressures and threats.
The Syrian Ambassador to the United Nations who also read out a statement on support for Iran's nuclear rights, told IRIB reporter that NAM is against any double standard policy towards NPT members over their nuclear rights.
"It is regrettable that peaceful nuclear activities of Iran has concerned the Western countries but the real threat of the Zionist regime's nuclear weapons are ignored," he added.
Meanwhile, the Venezuelan Ambassador to UN said the imperialist countries should abandon their double standard behaviors and respect the other countries' rights.
He stressed that Venezuela supports Iran's enrichment right.