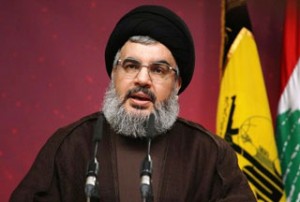 Hezbollah Secretary General Seyyed Hassan Nasrallah has urged Muslims to be vigilant against the "borderless Israeli greed and brutality."
"Israel is an entity that has stolen Palestine and Jerusalem Al-Quds. This entity's greed, terrorism and brutality have no borders," said Nasrallah who was addressing thousands of people in Beirut on Sunday as part of ceremonies held to mark the Ashura anniversary.
"Millions of refugees in Palestine and outside Palestine have been living far away from their homes for decades. More than 11,000 prisoners and detainees are living in very harsh conditions in Israeli prisons," he noted.
"[Palestinian] houses are being demolished and agriculture is being destroyed in order to force Palestinians to flee," Nasrallah said.
Nasrallah also condemned the "US hegemony" in the Middle East.
He said that "threats against Arabs and Muslims are presented by the American hegemony and its plan to take control of the region."
"We call on the [Islamic] Ummah to show vigilance against the real nature of the hegemony and not be tricked by the rhetoric and pledges of freedom, democracy and human rights," the Hezbollah chief added.
"We condemn the American plots and the crimes committed by the US administration in Iraq and Afghanistan and we condemn the US participation in Israeli crimes in Palestine and Lebanon," Press TV quoted Nasrallah as saying.
The Hezbollah Secretary General went on to add that the oppressed nations will achieve victory against the "American hegemony."