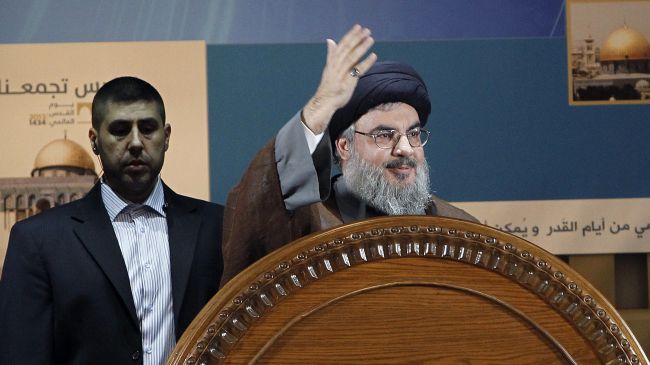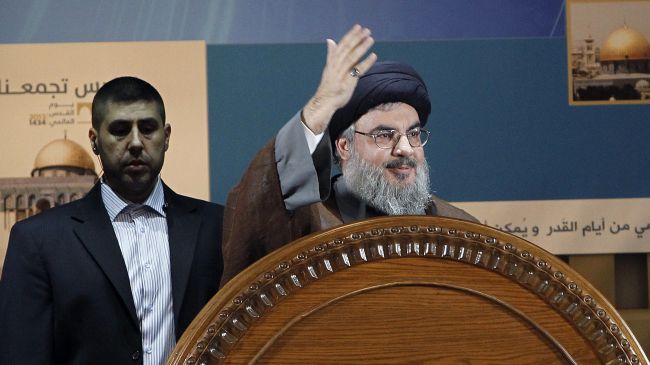 Hezbollah Secretary General Sayyed Hasan Nasrallah said that whoever sponsors takfiri groups across the Muslim world is responsible for the destruction and killing in the region and "offers the best service to Israel."
In a live speech before crowds marking the International Al-Quds Day in Dahiyeh in Beirut, Nasrallah said "The goal of marking the occasion on the last Friday of Ramadan is to remind Muslims and the world of the Palestinian cause and benefit from this occasion to mobilize energies in order to save Al-Quds and Palestine from the hands of the Zionists and to highlight what Palestine and its people are suffering".
Nasrallah pointed out that "Palestine which we are talking about is the whole of Palestine from the sea to the river, which should return fully to its people… no Sheikh or Sayyed or Prince nor King or President or a government in the world is entitledto give up or abandon one grain of sand from the soil of Palestine, or a drop of its water, oil, or a piece of its land and does not have a mandate to do so."
"Israel poses a danger to the peoples and countries of the region, and eliminating it is a national interest," Nasrallah said.
Nasrallah thanked Syria and Iran for their support to Palestine and the resistance movements which led to the defeat of the Zionist entity and its project.