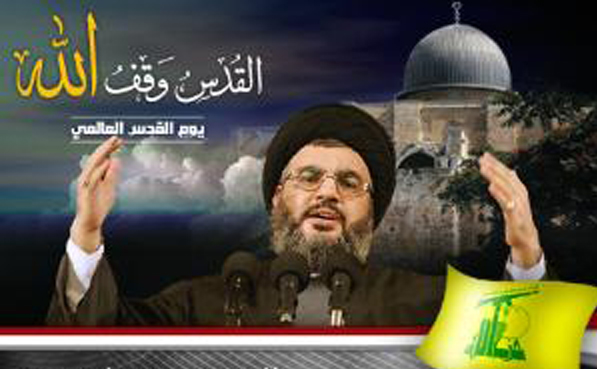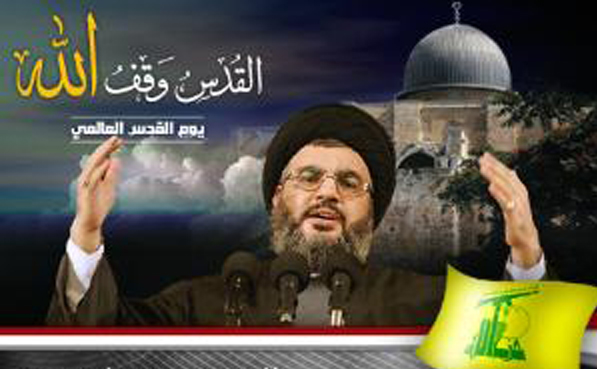 Hezbollah Secretary General Sayyed Hassan Nasrallah said that the Syrian people and leadership have played a great role in safeguarding the Palestinian cause and preventing its liquidation, adding that the Syrian position is decisive to the cause.
In a televised address on the occasion of International al-Quds Day, Nasrallah added "Had it not been for Syria, the Lebanese resistance wouldn't have triumphed in 2000, the Lebanese territories wouldn't have been restored and Gaza wouldn't have remained firm and strong."
Nasrallah called upon all countries that are keen on Syria's people and future to work on calming the situation in Syria and pushing toward dialogue.
He stressed that those who are trying to provoke sedition and incitement in Syria want to destroy and sabotage it and undermine its position.
"Syria succeeded in preserving its unity throughout history… It was unified and so it should remain," Nasrallah said.
He indicated that there are sides who want to divide and fragment Syria to achieve the interests of the new Middle East plot, pointing out that any negative or bad developments in Syria will affect the whole region.
"As President Bashar al-Assad said few days ago, the US and Europe want the Syrian leadership to make concessions not reforms…The US is not concerned about reform, and the proof is that there are many countries that are ruled by tough dictatorships, countries where there is no democracy, freedom of expressions or even personal freedom. Still the US, France and Britain support and protect these countries," he said.
Nasrallah stressed that establishing the Palestinian state on the lands of 1967 is a Palestinian issue determined by the Palestinian people.
He pointed out that the cause of the Palestinian problems is the Israeli occupation, adding that the last operation against Israel in the city of Eilat proves the weakness of Israel and the determination of the Palestinian people.