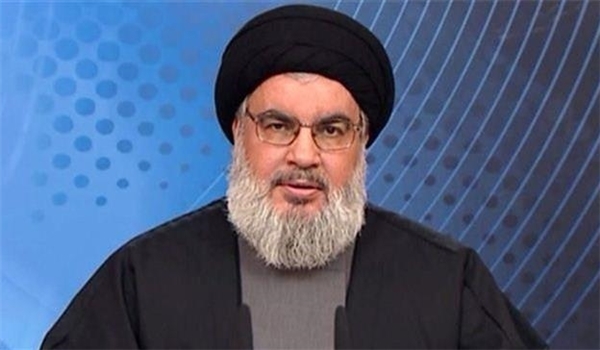 Speaking on the occasion of International Quds Day, Nasrallah addressed martyred General Soleimani, stressing that the Resistance is preparing to pray in Al-Quds, the Arabic-language al-Manar news channel reported.
"This year, we miss martyr Hajj Qassem Suleimani. Hajj Qassem had worked throughout the day and the night to strengthen the Resistance and to liberate Al-Quds."
"We promise him and all the other martyrs that the day when Al-Quds will be liberated is coming," he added.
Nasrallah said that Imam Rouhollah Khomeini declared Al-Quds Day as an annual occasion on the last Friday of the holy month of Ramadan in a bid to voice Iran's firm and decisive commitment to Palestine and Al-Quds.
"Today we are so close to liberate Al-Quds thanks to faith, steadfastness, patience and sincerity of Axis of Resistance's powers."
He added that those who are seeking to normalize ties with the Zionist entity don't represent the real image of the Muslim and Arab Ummah.
Nasrallah noted that the Zionist officials are concerned over the military buildup of Resistance factions across Arab and Muslim countries.
"Zionist officials are scared of victories achieved by Axis of Resistance and astonished by defeat of the United States and its allies."
"We in Hezbollah, pledge to stand by the oppressed people of Palestine," he underlined.
The International Quds Day is an annual event opposing Israel's occupation of Beitul-Muqaddas. Anti-Zionist rallies and demonstrations are held on the last Friday of Ramadan in Muslim and Arab countries around the world, specially in Iran, as well as a large number of non-Muslim states.
The International Quds Day was started by the late Founder of the Islamic Republic, Imam Khomeini, in 1979 as a way of expressing solidarity with the Palestinians and underscoring importance of the holy Quds to Muslims.
Due to the outbreak of coronavirus, the International Quds Day will be commemorated differently without holding gatherings and rallies in most countries.
General Soleimani in a letter before his martyrdom to Commander of Hamas's Izz al-Din al-Qassam Brigades Mohammed Deif had underscored Iran's continued support for Palestine despite all pressures and sanctions.
"Everyone should rest assured that no matter how much pressures increase and sanctions are intensified, the Islamic Republic of Iran will not leave Palestine and Palestinian people alone," martyred General Soleimani wrote in his letter released by the Arabic-language al-Mayadeen news channel.
He described Mohammed Deif as a "living martyr" and a "brave commander", sending greetings to the brave nation of Palestine which is under an oppressive siege before the eyes of millions of Muslims.
In a part of his letter, martyred General Soleimani also sent his greetings to the Head of Hamas Political Bureau Ismail Haniyeh, calling him as a resilient and resistant commander.
"Defending Palestine is an honor for the Islamic Republic of Iran and Iran will not renounce and give up its duty for the benefit of the world. Palestinians are our friends, and enemies of Palestine are our enemies and this is and will be our policy," he stressed.
The letter was released a few days after Head of the Tehran bureau of the Islamic Jihad Movement of Palestine Nasser Abu Sharif praised General Soleimani for his strenuous efforts in line with the Palestinian cause to liberate Quds from Israeli occupation.
"General Soleimani's ultimate goal was the holy Quds wherever he was. He thought of Quds when he was in Iraq or Syria. No matter which part of the Muslim lands he was, his ultimate objective was liberation of Quds," Abu Sharif said, addressing a seminar in the Republic of Azerbaijan to commemorate the International Quds Day (May 22) via a video conference on Sunday.
He said that the Palestinian people enjoy the spirit of struggling and are always after liberation of their occupied lands and have never become tired of pursuing this cause.
Abu Sharif warned that if Muslims do not consider Quds as their compass, they will lose their path and unity among them will fade away.
General Soleimani played a key role in assisting the resistance forces in the region.
Head of the Research Center of the International Islamic Awareness Organization Hossein Akbari underlined that Israel was forced to change its war strategy from offensive to defensive mode after General Soleimani stood beside the resistance front's leaders.
"Actually, martyr Soleimani was the initiator of a strategic move which forced Israel to change strategy from offensive to defensive," Akbari said in an interview with Persian-language Sobh-e No on Saturday.
He explained that General Soleimani awakened many people in the Muslim world when he stood beside Secretary-General of Hezbollah resistance group in Lebanon and defeated Israel in 2006 while many imagined that the regime cannot be defeated.
"It was the first and biggest failure of Israel," Akbari said, adding that it was followed by the regime's second defeat during the 22-day war against Gaza.
"Martyr Soleimani's command ran through the Palestinian resistance in a unique way and defeated Israel in the territories occupied by the regime," he underlined.
Akbari said that after all these defeats, the Syria war was ignited and the US and its allies attempted to establish security for Israel but General Soleimani's advice to the Syrian army commanders defeated them again.
General Soleimani had before his martyrdom in January 2020, in an interview disclosed some untold facts about the 2006 Israel–Hezbollah 33-day War.
"I should say that the 33-day war had some hidden causes which were the principle factors leading to the war. The war had some apparent and some hidden causes, the pretext of which were the hidden goals that the [Zionist] regime sought for a period of time. When I say there were hidden causes, we had some information about the preparations of the Zionist regime, but we had no information on the fact that the enemy wanted to launch an attack in ambush. Later, based on two circumstances, we concluded that prior to this war, a swift ambush was supposed to be conducted to overturn Hezbollah. Well, this war happened when two important events, one concerning the entire region and another exclusively concerning the Zionist regime were taking place," he said in 2019 in an interview with Khamenei.ir website.
He said that Tel Aviv was using the opportunity of the presence of US military forces in the region to uproot Hezbollah from Southern Lebanon, adding that some Arab countries were also collaborating with the Israeli-American plot.