Lebanon
Nasrallah: We have already experienced crises against resistance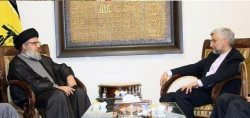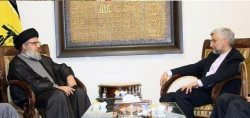 Secretary General of Hezbollah Seyed Hassan Nasrallah said Hezbollah has always been aware of US and the Zionist regime conspiracies against resistance.
Nasrallah was speaking in a meeting with Secretary of Supreme National Security Council Saeed Jalii in Beirut on Tuesday.
Jalili and his accompanying delegation as well as Iran ambassador to Lebanon discussed issues of mutual interest with Hassan Nasrollah.
The two sides discussed regional developments, especially repeated conspiracies of the west against resistance in Lebanon and Syria.
Praising the Iranian leadership and nation stance before west and the Zionist conspiracies, Nasrollah underlined importance of Iran's role in current sensitive situation.
Jalili referred to achievements and stability that resistance has brought for Lebanon and said that Lebanese and Palestinian resistance has been honor for the Arab world and current Islamic awakening moves are among its achievements.
He said that Iran's support for oppressed nations of the region against world hegemonic powers and the international Zionism plots are among principles of Iran Islamic Revolution.
Jalili added Iran believes that Syrian officials and nation should take decision on their country's future and democracy is the sole solution for Syrian problem.