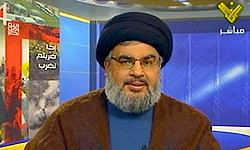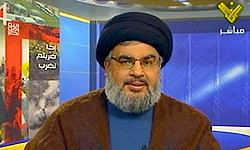 Secretary-General of Hezbollah Seyed Hassan Nasrallah welcomed the Lebanese government's decision to ask for Tehran's cooperation in equipping the country's Army.
Nasrallah urged the Lebanese Cabinet on Tuesday to ask Iran and Arab states to provide equipment for Lebanon's army, stressing that "Hezbollah will work hard through his friendship with Iran to equip the Lebanese Army."
Lebanese President Michel Sulayman has officially asked Iran to equip and modernize the Lebanese Army.
Nasrallah said Beirut should seek an alternative source for its military needs, stressing that "Lebanon must ask for help from countries that are willing to sell arms to Beirut without any conditions."
His comments came as the US Congress decided to block its $100 million military aid shortly after a deadly border clash between Lebanese and Israeli soldiers.
Nasrallah asked Beirut to act swiftly to acquire weapons rather than discuss a long-term plan to equip the army.
He also commented on the military's recent border skirmish with Israel, saying, "What happened in the Adeissah battle proved that the weapons that the Americans give us come with the condition that they must not be directed against Israel, but only towards internal affairs."
In a televised speech on the al-Manar channel, Nasrallah also called on Beirut to consider the establishment of a nuclear reactor, similar to that of Iran, to resolve the country's electricity crisis.
Nasrallah urged the Lebanese government to follow Iran's footsteps and build a nuclear reactor to generate electricity like the reactor in Bushehr.
"The cost of building the Bushehr reactor was less than Lebanon's investment in the electricity network. I call on the government to build a nuclear reactor to generate electricity, and then we can also sell energy to Syria, Cyprus, and other countries in the region," he added.
Sulayman's demand for Iran's military aid comes a few days after Iran announced its defense industry has the capacity to supply arms to more than 50 countries.
Iranian Defense Minister Brigadier General Ahmad Vahidi said on Saturday that Iran's "dynamic defense industry is capable of exporting arms to over 50 countries in the world."