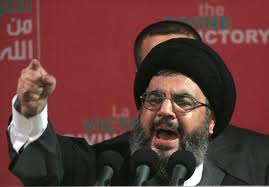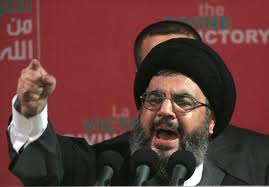 Hezbollah Secretary General Sayyed Hasan Nasrallah emphasized that as the resistance was clear since the beginning about its stance from the crisis in Syria, it was also clear that it has not been sending its fighters there.
"Since the beginning of the crisis, some parts in the Syrian opposition started talking about us sending fighters to Syria. This was a lie and still is," Sayyed Nasrallah stressed wondering: "Where are those martyrs who they say have fallen in Syria? We escort our martyrs to their graves publicly, and we are not ashamed of that."
"Nothing could be concealed, and we are not hiding anything, as when a martyr falls, we tell his family the whole truth, where, when, and how this dear brother was martyred," he went on saying.
On "martyr Abu Abbas" and several other martyrs who fell near the Lebanese-Syrian borders, Sayyed Nasrallah explained that "there have been around 30 000 Lebanese families residing in Syria since tens of years. These Lebanese live on Syrian lands and have properties there, yet they hold on to their Lebanese nationality, and they vote in Lebanon and join Lebanese parties including Hezbollah."
"Since the beginning of the events, they decided to take a neutral stance, but the armed groups there attacked them and threw some of them out of their homes. Some of those families were also killed, kidnapped, displaced, and their houses were burned. A part of them chose to leave, but a bigger part decided to stay, buy weapons, and defend themselves. Therefore, this is not related to fighting on the Syrian regime's side, but to self-defense," he added.
In this context, Sayyed Nasrallah assured that everything said in media about Abu Abbas was not true.
"Everyone in Beqaa knows that he was a military official in Beqaa… and he was killed in that region, which is still under bombardment until today," he reassured, stating that "our political stance is clear, and all the pressure against us did not change our beliefs and thoughts. We see that the situation in Syria is dangerous on Syria, Palestine, Lebanon, Iraq, Turkey, and the whole region. What we call for is dialogue, a political solution, and the end of bloodshed. The regime neither needs us nor needs anyone to fight on its side."
On the Lebanese captives in Syria, Sayyed Nasrallah assured that "fabrications and threats don't work with us," and addressed the kidnappers saying: "If you are expecting me to apologize, I will not apologize, and no one accepts that I do. What you are doing is a shame for you… Leave us out of this battle. Don't threaten us, don't intimidate us, don't try us, and Salam…"