Syria
National Unity Forum issues Statement Affirming Adherence to National Standards, Rejecting Arab League Resolutions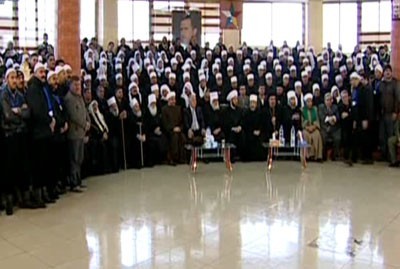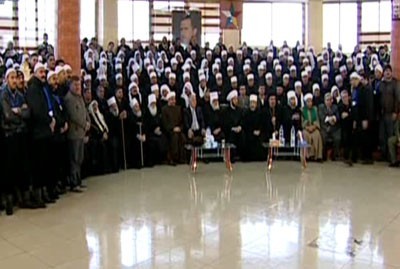 The National Unity Forum for Supporting Reform, Adhering to Standards and Confronting the Conspiracy held on Monday in Irneh in al-Sheikh Mountain issued a closing statement.
The statement affirmed that Syria will remain strong and that no conspirator will harm it, stressing that it will always be the home of all Syrians and that they will not be divided by colonialists or those who pretend to be Arabs.
The statement also affirmed refusal of all forms of foreign interference in Syria's internal affairs and rejection of the Arab League resolutions which undermine Syria's sovereignty and unity, stressing that Syria is an example of co-existence and call upon all Syrians to avoid being drawn into calls for sedition that seek to tear the country apart.
The statement denounced the bombings and murders targeting the country and citizens, saluting the people of the occupied Syrian Golan and reiterating vows that the Golan will not be forfeited.
Participants affirmed their adherence to pure Arabism and its essence, stressing that comprehensive national dialogue is the only way out of this crisis and that they will put all their resources to help improve Syria and support the reform process led by President Bashar al-Assad.
Hassoun: We should not Fear of their Resolutions
Syria's Grand Mufti, Sheikh Ahmad Badr al-Dain Hassoun said that Syria lives moments of new birth for the Islamic, Arab nations as well as for humanity, stressing that "those who don't read the history will not acknowledge the future."
"We thank the monitors who returned to Cairo to say that they saw in Syria people loving each other, martyrs and wounded, trying to build Syria through amity, not hatred, through work, not spite," the Mufti said.
He added "We thank you, Arab monitors, for relaying part of reality and truth… but, you, the Arab foreign Ministers, who didn't see the truth yet, we call you to hold your next conference in any village, town or city in Syria to find out that it embraces you with its flowers."
He underlined that those who conspire against Syria target Damascus, Syria, its people and leader, not a group or religion… they target the whole nation.
Hassoun went on to say that today we should not fear of their ( the Arab League) statements, decisions or reports… let them decide what they wish.. we decided that our people is one, our God is one and our religions are one.
Metropolitan Moussa al-Khoury said that Syria is going through rough times unheard of before, praying to God for the Syrians to remain united and unbowed.
He said that the decisions of the Arab foreign ministers lies with the West as they take their cue from colonizers, pointing out that unity is the guarantee of the homeland's safety and security.
Camille Nassr, a researcher, said that the unity of the Syrians soars above ethic, religious and confessional loyalties, for Syria, says he, is the land of amity and peace.
"Syria is in the throes of a global conspiracy, and it is regrettable that Arab media serves as a tool for this conspiracy," said Nassr.
Mayor of the occupied Golan Issam al-Sha'lan said that the people of Golan will always remain committed to their Syrian Arab identity, adding "In Syria, we cast aside subjection and loyalties to everything other than Syria."
Dr. Salim Kboul highlighted the war waged by Western and regional powers on Syria on media, psychological, economic and political levels, adding that the Syrian people have emphatically made up their mind to preserve the unity of their country.