Syria
Nationwide map of Syria – October 25, 2017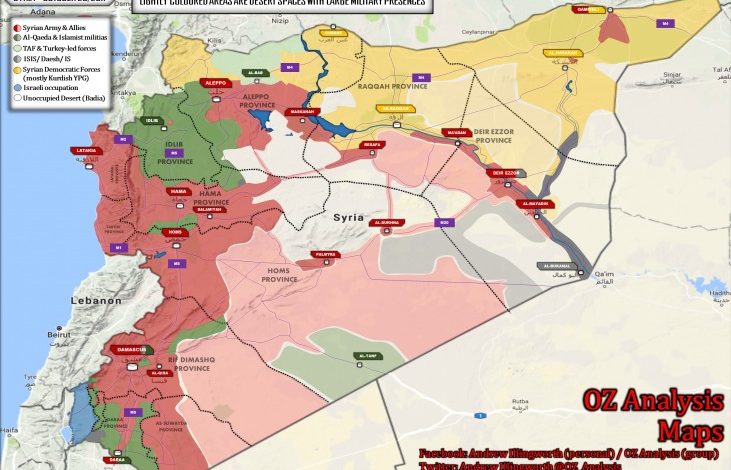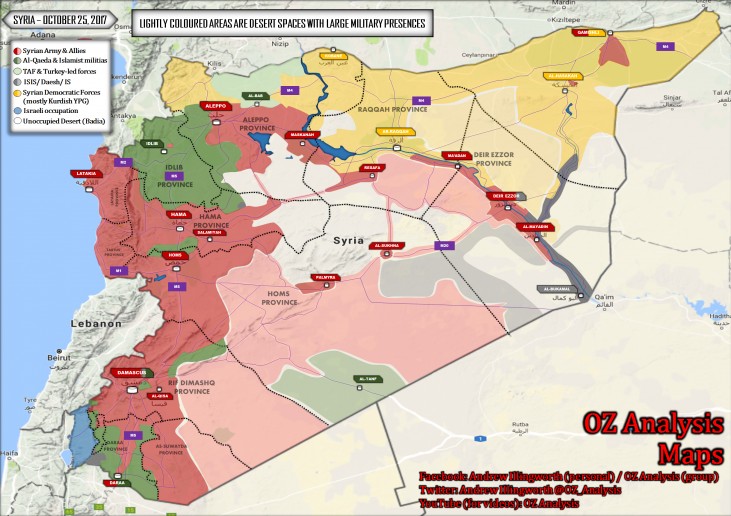 As the war against ISIS in Deir Ezzor province reaches its peak, a situation has now emerged whereby both pro-government forces and US-backed, Kurdish-led militias (fighting under the Syrian Democratic Forces banner) are making conflicting claims over advances in the region.
Whilst US-backed, Kurdish-led militias captured the Al-Omar oil field by enticing ISIS militants holding the site to switch uniforms, there is no evidence that the Syrian Democratic Forces have actually crossed to the eastern bank of the Khabur River.
At the same time, there is no evidence to suggest that the Syrian Army has maintained a foothold on the eastern bank of the Euphrates directly opposite Al-Mayadeen city. To this end, some pro-government sources say that the Syrian Army did cross the river east of Al-Mayadeen, but then retreated.
In any case, pro-government forces have succeeded in surrounding the T-2 military complex in southwestern Deir Ezzor province from three directions, whilst Syrian Army formations advancing south of Al-Mayadeen city rapidly captured the ISIS strongholds of Mahkan and Al-Quriyyah. over
The Syrian Army commenced an offensive against Al-Qaeda affiliate Ha'yat Tahrir al-Sham in northeast Hama province yesterday, however, the exact disposition of pro-government forces in the region is not entirely clear and is thus not marked on the map above.
Several days ago, the Syrian Army finally liquidated ISIS resistance in the oasis town of Al-Qaryatayn in central Homs province.
Source: AMN