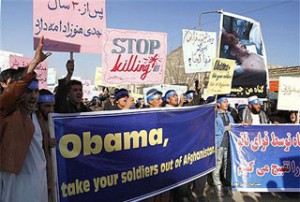 At least eight civilians have been killed in the latest airstrikes by NATO forces in southern Afghanistan, witnesses say.
The attacks took place in Nadali district of Helmand province on Wednesday, Afghan witnesses told Press TV on Thursday.
The airstrikes also left at least another civilian wounded.
The high number of causalities have infuriated the Afghans, who took to the streets on Wednesday to call for an end to such attacks.
The protests came after it was confirmed that foreign forces dragged ten Afghans out of their homes and killed them in the eastern province of Kunar on Saturday. Eight of the victims were schoolchildren.
The United Nations, in its latest report, said that the civilian death toll from the US-led war in Afghanistan has increased by 10 percent, with a fair share of the fatalities caused by foreign forces.