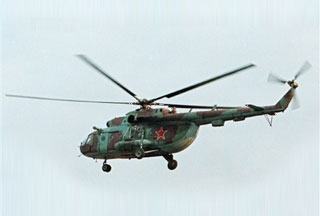 A helicopter used by the NATO-led coalition forces in Afghanistan has crashed in the southern province Kandahar, killing at least 15 people.
The Russian-made Mi-8 helicopter crashed while taking off in the volatile province, Interfax news agency reported. Two of the 17 people onboard sustained injuries, according to sources.
Last week, a US helicopter was shot down by Taliban insurgents in the southern province of Helmand, killing five people onboard.
Taliban insurgents are known to be capable of shooting down helicopters with rockets.
More than fifty foreign troops have so far been killed in Afghanistan this month, making July the deadliest month for the US and its allies since the 2001 invasion of the country.