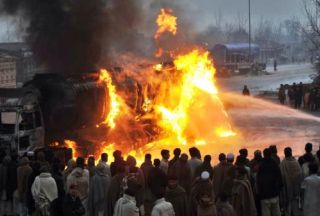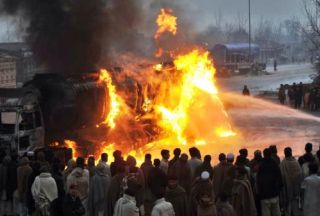 Four NATO supply containers have been destroyed after they were set on fire by unidentified attackers in Pakistan's southwest province of Baluchistan.
Police officials told Press TV that unknown militants attacked the NATO supply containers in the town of Mach in the Bolan district near Baluchistan's capital city of Quetta on Thursday night.
More than 400 NATO trucks and containers have been torched or plundered over the last four months in various areas of the Khyber, Pakhtoonkhwa and Baluchistan provinces of Pakistan.
Pakistan's lawless tribal belt on the Afghan border remains a haven for militants who fled the 2001 US-led invasion of Afghanistan.
Pakistani authorities have deployed heavy contingents of police and military forces on all major arteries in the area to curb militant attacks on supplies trucked to Afghanistan.
NATO and the US forces are dependent on Pakistan for supplies, as about 80 percent of such cargo passes through the country.
The rampant attacks have forced NATO to look for alternative routes, including through Central Asia.
According to Xinhua news agency, Thursday's attack on the NATO supply convoy is the third of its kind in 72 hours.