Iran
Neighbors take priority for investment in Iran: Rouhani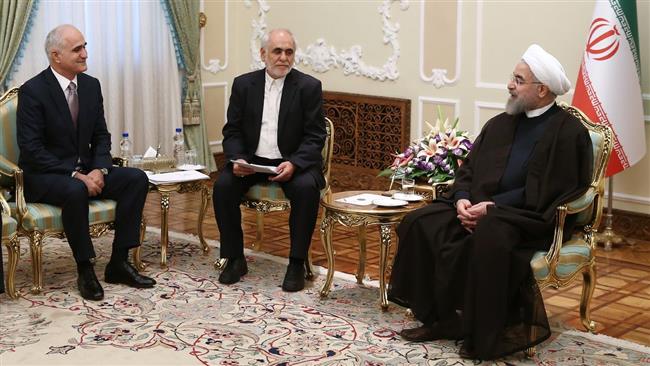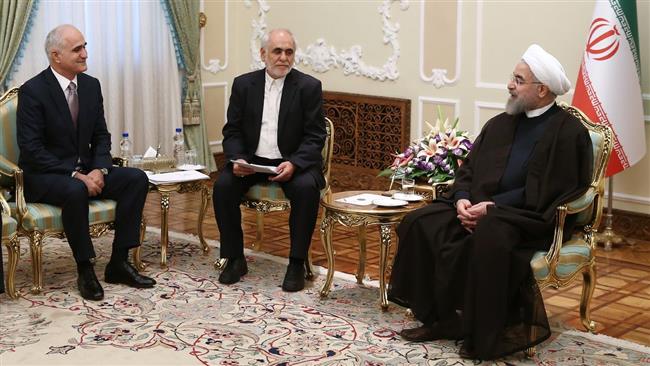 Iranian President Hassan Rouhani says the recent nuclear agreement between Iran and six world powers has increased global demand for investment in the Islamic Republic, adding that Iran's neighbors take priority for the opportunities that are opened up.
"In the wake of the nuclear agreement, numerous companies from across the world are keen to invest in Iran. It is obvious that [Iran's] neighboring countries including the Republic of Azerbaijan are prioritized in this regard," Rouhani said in a Tuesday meeting with Azeri Minister of Economy and Industry Shahin Mustafayev in Tehran.
On July 14, Iran and the P5+1 countries – the United States, Britain, France, China and Russia plus Germany – finalized the text of an agreement, dubbed the Joint Comprehensive Plan of Action (JCPOA), in the Austrian capital of Vienna.
Under the JCPOA, limits are put on Iran's nuclear activities in exchange for a set of commitments by the P5+1, including the removal of all economic and financial sanctions against the Islamic Republic.
Rouhani also hailed developments in Iran-Azerbaijan ties in recent years, saying, "The two countries enjoy myriads potentialities in different sectors to broaden more than ever their relations and cooperation."
He underscored the importance of the North-South Corridor in strengthening Tehran-Baku ties, noting that Azerbaijan can link Iran to the Caucasus region while Iran can connect Azerbaijan to the Persian Gulf and the Sea of Oman.
The Iranian president noted that joint investment by the two countries in the Caspian Sea would herald a good start for joint venture oil and gas projects.
JCPOA beneficial for regional, global peace
The Azeri minister welcomed the conclusion of nuclear talks between Iran and the P5+1 group of countries and said it would definitely be beneficial to peace and stability in the region and the world.
Mustafayev expressed his country's firm determination to improve ties with Iran in energy, trade, transportation, industrial, agriculture, oil, petrochemical and banking sectors.