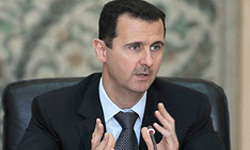 The Syrian president rules out face-to-face negotiations with Israeli Prime Minister Benjamin Netanyahu, saying the rightist premier is not serious about peace.
President Bashar al-Assad said Friday that he had no Israeli partner ready to push forward the Middle East peace process, calling for lower-level dialogue with Tel Aviv under Turkish mediation.
"If Mr. Netanyahu is serious, he can send a team of experts, and we'll send a team of experts to Turkey. Then we can really talk, if they're interested," the Syrian leader said after talks with his French counterpart Nicolas Sarkozy in Paris.
Assad's comments come after Netanyahu said he was willing to hold direct peace talks with Assad, but on the basis of no pre-conditions.
Damascus, however, has repeatedly ruled out any direct talks with Tel Aviv unless the Israeli regime returns the Golan Heights, which it occupied during the 1967 war with Arab states and later annexed in 1981.
Turkish-mediated Syrian-Israeli peace talks broke down last year in the wake of Israel's offensive against Gaza, which left 1,400 Palestinians killed and thousands more injured.
This is while Ankara says it is still ready to resume its mediating role, overseeing telephone talks between leaders from the two sides.
Paris also has been warming up its ties with Damascus in hopes of resolving Syria's dispute with Israel to pave the way for using the influential Arab nation's help in the long-stalled peace negotiations between the Israelis and the Palestinians.