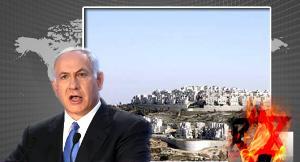 Israeli Prime Minister Benjamin Netanyahu has played down the possibility of a war on Lebanon after a member of his cabinet warned of a likely conflict with Hezbollah.
In a statement released by the prime minister office, Netanyahu said Tel Aviv was not planning any attack on Lebanon, Reuters reported.
"Israel is not seeking any conflict with Lebanon," said the premier.
An official at the premier's office said Netanyahu's statement came in response to fears expressed recently over a minister's remarks about a new conflict with Hezbollah.
Earlier on Saturday, Yossi Peled, a minister without portfolio and a reserve army general, said another confrontation with Hezbollah was almost inevitable but he could not say when it might happen.
The London-based A-Sharq al-Awsat newspaper also reported escalated tension between the two sides after Tel Aviv called up its army forces to Lebanon's southern border.
The daily said Hezbollah also put its forces on high alert to retaliate a possible surprise attack on the country.
In 2006, Israel fought a 33-day war with Lebanon which was aimed at destroying Hezbollah's military power but eventually left the battle scene without achieving any of its objectives.