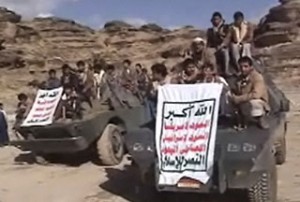 The Yemeni army says its forces have inflicted heavy losses on the Houthi fighters in the North as the two sides clashed near the Saudi border.
"Heavy fighting was taking place in the middle of the day on the Malahidh front after the army took total control of Jebel Khazaen," in north Yemen, army spokesman Askar Zuail said.
The recent skirmish between Yemeni forces and al-Houthi Muslim combatants is reported to have erupted in the rugged Malahidh area near the border shared with oil-rich Saudi Arabia.
The deadly offensive by the Yemeni military against Muslims counties in the region as humanitarian agencies have voiced deep concern over a worsening crisis in Saudi Arabia's southwest and in northern Yemen where Riyadh has also been bombing villages.
The UN High Commissioner for Refugees' (UNHCR) says the conflict in northern Yemen has rendered 175,000 people homeless since 2004, when the government started attacking the Shia fighters accusing them of seeking to restore the Shia Zaidi imamate system, which was overthrown in a 1962 coup.
The Houthis argue, however, that they are defending their people's rights against the central government's marginalization policies adopted under the influence of Saudi-backed Wahhabi extremists.
The Saudi air force has further complicated the conflict during the past fortnight by launching its own operations against Houthis, accusing the Shia resistance fighters of killing two Saudi soldiers on the border.
While Riyadh claims that its offensive targeted Houthi positions on 'Saudi territory', the fighters say Yemeni villages were being bombarded.
Shias, who form the clear majority in the north, make up approximately half of Yemen's overall population.
Yemen's northern Sa'adah province borders the southwestern Saudi province of Asir where Saudi Ismaili Shias live.