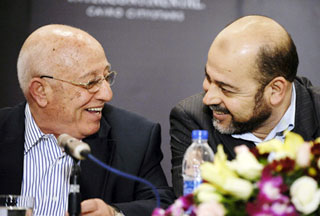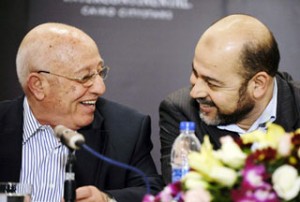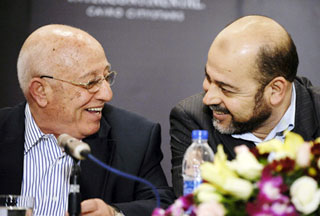 After Hamas put off signing a reconciliation pact with Fatah over Mahmoud Abbas' withdrawal of support for an anti-Israeli UN report, Egypt has made a new proposal.
Egyptian officials offered a fresh proposal for the signing of a Palestinian reconciliation pact to the visiting Islamic Resistance movement (Hamas) delegates.
"Egypt handed Hamas delegation the new proposal that overcomes the dispute over the scheduled date for signing the unity deal. Hamas would give Egypt its answer soon after studying the proposal," Hamas spokesman Fawzi Barhoum said on Saturday.
A Hamas delegation, led by the Deputy Chief of Hamas Political Bureau, Musa Abu Marzouq, held talks with Egypt's intelligence chief, Omar Suleiman on Saturday. The two discussed a new, appropriate date for a new session of Cairo-based inter-Palestinian dialogue.
On Wednesday, Hamas had asked Egypt to postpone the earlier announced date of October 26. The postponement was requested because of a decision by the Palestinian Authority (PA) delegation at the UN Human Rights Council to drop its backing for an immediate vote on a report on the Gaza war.
A United Nations inquiry, led by former South African Judge Richard Goldstone, detailed what investigators called Israeli actions "amounting to war crimes, possibly crimes against humanity," during Israel's winter offensive against the Hamas-ruled Gaza.
More than 1,500 Palestinians were killed during three weeks of Israel's land, sea and air assault, dubbed Operation Cast Lead, in the impoverished coastal sliver. The offensive also inflicted USD 1.6 billion of damage upon the Gaza economy.
The opponent Palestinian factions, Hamas and Fatah, have long been wrangling with each other over substantial discords, which have caused real bottlenecks to mend fences and repair the internal Palestinian divisions.
In early September, Cairo put forward a document to reconcile the two major Palestinian factions. The six previous rounds of unity talks have so far failed to bring about reconciliation.