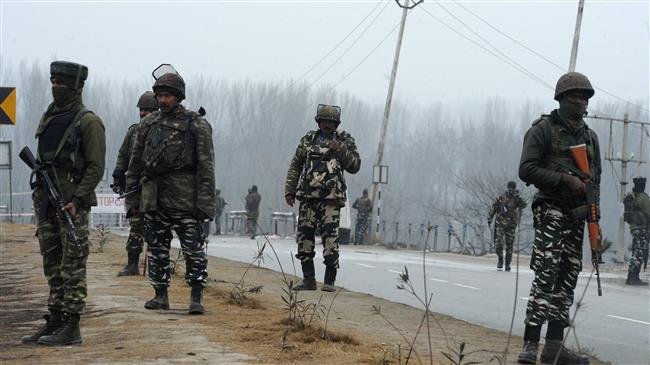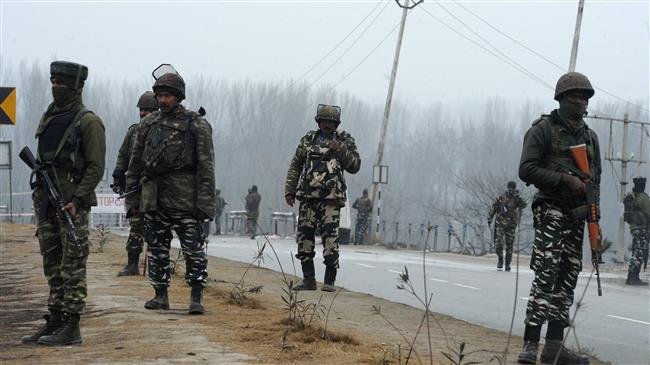 Four Indian soldiers and a civilian have been killed in a fierce gunfight with suspected militants in India-controlled Kashmir as New Delhi launches a manhunt following a deadly car bomb attack against a convoy of its forces in the troubled region.
Reuters cited police sources as saying on Monday that the exchange of fire broke out during the Indian army's search operation in the Pulwama district, located 40 kilometers south of Kashmir's main city of Srinagar.
Indian troops had cordoned off Pinglan Village in the Pulwama district, acting upon a tip-off about the presence of up to three suspected militants inside a house in the area, according to police sources.
The Indian troops fired warning shots during the search, prompting the suspected militants holed up in the house to respond, the source said.
"There was an exchange of fire early this morning that wounded the army men and the owner of the house. They died later," Reuters quoted a police official as saying.
Pulwama was the site of a huge car bombing that hit a convoy of Indian forces on Thursday, killing 44 of them.
At least 44 people have been killed and several others wounded after a car filled with explosives rammed into an Indian military convoy in Kashmir.
The deadly attack was claimed by the Pakistan-based Jaish-e-Mohammad (JeM) militant group, one of the several armed outfits which fight Indian rule over Kashmir.
The Indian police official said the militants behind the assault were believed to be still at large.
An indefinite curfew has been imposed in Pulwama and police have asked people to stay indoors.
According to Reuters, Indian forces have so far made 23 arrests in connection with the car bomb attack, which has triggered a fresh wave of tensions with Pakistan.
New Delhi accuses Pakistan of having a hand in the attack, an allegation Islamabad denies.
Islamabad recalls envoy to New Delhi
In the wake of the bomb attack, India recalled its ambassador to neighboring Pakistan for discussions on the future of bilateral relations.
In a tit-for-tat gesture, Pakistan has also recalled its own envoy to India for consultations, Pakistan's Foreign Office spokesman said on Monday.
"We have called back our High Commissioner in India for consultations. He left New Delhi this morning," Mohammad Faisal said on Twitter.
We have called back our HIgh Commissioner in India for consultations.
He left New Delhi this morning .
Kashmir has been split between India and Pakistan since partition in 1947. Both countries claim all of Kashmir and have fought three wars over the territory.
Indian troops are in constant clashes with armed groups seeking Kashmir's independence or its merger with Pakistan.
India regularly accuses Pakistan of arming and training militants and allowing them across the restive frontier in an attempt to launch attacks. Pakistan strongly denies the allegation.
India's Prime Minister Narendra Modi has vowed a strong response to Thursday's car bombing, which was the worst of its kind in decades of militancy gripping the Himalayan region.