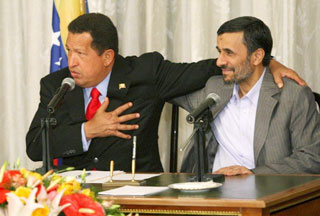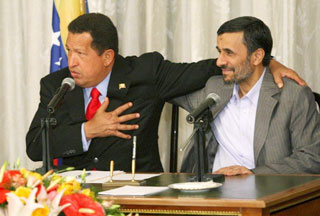 Iran and Venezuela sign three cooperation agreements in the fields of medicine, oil and trade at the end of President Hugo Chavez's two-day visit to Tehran.
According to the deals, the two allies will jointly produce medicine, swap oil and improve trade ties.
The deals were signed between the Iranian ministers and their Venezuelan counterparts during President Chavez's tour to northeastern city of Mashhad on Sunday.
Tehran and Caracas had previously signed an array of agreements, pledging to work together in oil exploration, building low-income housing and assembling tractors and bicycles as well as military projects among other ventures.
In a joint press conference with Iranian President Mahmoud Ahmadinejad, Chavez also announced setting up a joint Iranian-Venezuelan bank.
"The two-national bank of Iran and Venezuela is very important and based on an agreement the two sides must inject 100 million dollars into the fund within one month," Chavez said.
The Venezuelan President Hugo Chavez also said his country is ready to provide Tehran with 20,000 barrels of gasoline per day.
He said that an agreement has been signed between the two countries, according to which Venezuela will start exporting 20,000 barrels of gasoline to Iran per day starting from October.
The deal came as the US Senate has approved a bill to put pressure on companies selling gasoline to Iran to force Tehran to halt its nuclear activities.
According to the bill, companies that continue to sell gasoline and other refined petroleum products to Iran will be banned from receiving US Energy Department contracts to deliver crude to the US Strategic Petroleum Reserve.
"Based on the agreement Venezuela will import machineries and technology (from Iran) in exchange for export of gasoline," Chavez said, adding that the deal is "a strategic" move.