Egypt
New Egyptian constitution approved, initial results of referendum show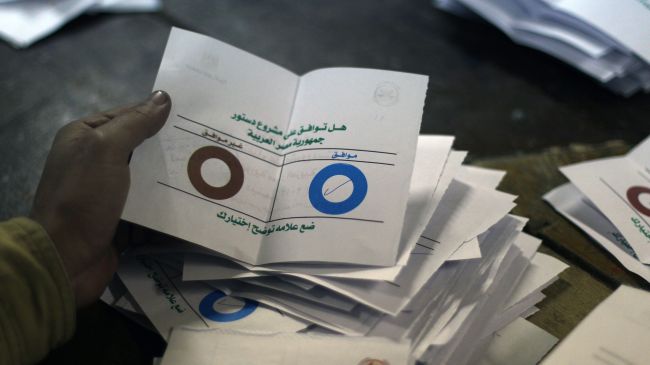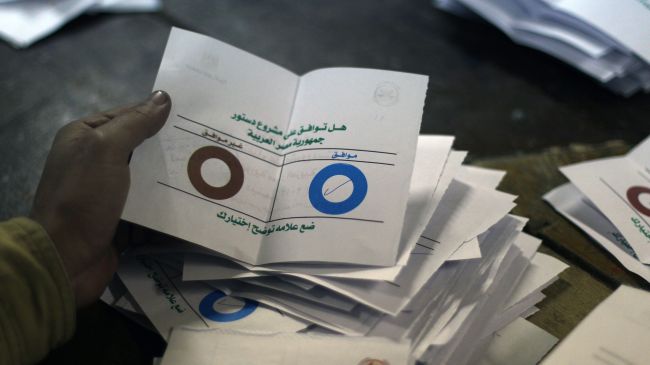 Egypt's ruling Freedom and Justice Party says the country's new constitution has been approved by about 64 percent of voters in the two-round referendum, which was completed on Saturday.
"According to our calculations, the final result of the second round is 71 percent voting 'yes' and the overall result (of the two rounds) is 63.8 percent," an official of the Muslim Brotherhood's Freedom and Justice Party said on Sunday.
The initial results for the final round have been collected from returning electoral official who supervised the counting.
Official results are expected to be announced on Monday or Tuesday.
On Saturday, Egyptians voted in the second round of the referendum on the new constitution, which states that the nation must be governed by the principles of Islamic law.
Egyptian voters formed queues at many polling stations across the country and voting was extended by four hours to 11:00 p.m. local time (2100 GMT).
About half of Egypt's 51 million voters were eligible to cast ballots in 17 provinces on Saturday.
In the first round, which was held on December 15 in ten provinces, 57 percent voted in favor of the draft constitution.
On November 22, President Mohamed Morsi issued a decree declaring that no judicial body could dissolve the Constituent Assembly, which was writing the draft of the constitution.
The decree allowed the president to take "any decision or measure to protect the revolution." It also made decisions and laws drafted by the president "final and not subject to appeal."
Since November 22, tens of thousands of Egyptians have held demonstrations across the country to express their support for or opposition to the draft constitution.
On November 30, the Constituent Assembly approved the final draft of the new constitution.
On December 1, the Egyptian president announced that a referendum on the new constitution would be held on December 15, 2012.
The Egyptians launched a revolution against the pro-Israeli regime in January 2011, which eventually brought an end to the 30-year dictatorship of former President Hosni Mubarak in February 2011.