Africa
New explosion claims 'heavy casualties' in NE Nigeria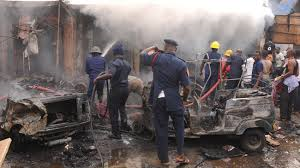 A new blast has rocked northeastern Nigeria just hours after a bomb went off killing at least 20 people near the city of Gombe.
The massive blast rocked a market in Nigeria's northeastern city of Bauchi, causing "heavy casualties" at around 5:00 pm local time (1600 GMT) on Monday, said the Red Cross.
The whole market was set ablaze, making it difficult for the rescue workers to reach the injured.
"There are heavy casualties of course, but for now we can't do anything until the fire is put out," said Adamu Abubakar of the Red Cross in Bauchi.
The explosion came just hours after a separate blast killed 20 people and injured 25 at a bus station near Gombe, around 190 kilometers away.
No group has yet claimed responsibility for the blasts, but the Takfiri militant group, Boko Haram, has carried out numerous attacks in the country over the past five years, killing thousands of people.
Boko Haram, whose name means "Western education is forbidden," says its goal is to overthrow the Nigerian government.
It has claimed responsibility for a number of deadly shooting attacks and bombings in various parts of Nigeria since the beginning of its operations in 2009, which have left more than 10,000 people dead so far.