Iraq
Middle East
New Mass Killing in Iraq, US-israel,Turkey backed ISIL kill 85 other in Anbar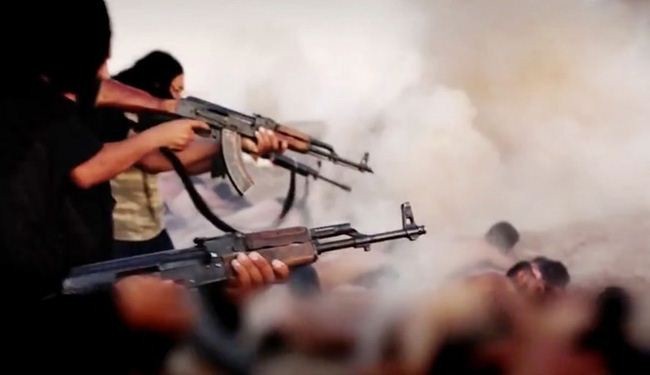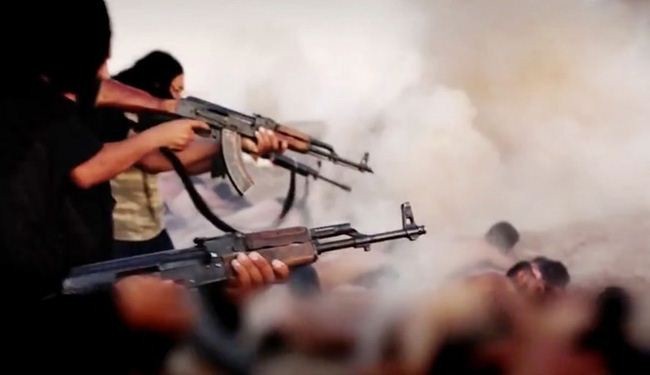 ISIS executed 85 more members of the Albu Nimr tribe in Iraq in a mass killing campaign launched last week to break their resistance to ISIS, Over 300 people have been executed since middle of last week.
The shooting happened late Friday in the village of Ras al-Maa, north of the provincial capital of Ramadi, Anbar councilman Faleh al-Issawi said.
Sheikh Naeem al-Ga'oud, one of the Albu Nimr tribe's chiefs, told Reuters that ISIS had killed 50 members of Albu Nimr who were fleeing the al Qaeda offshoot on Friday.
In a separate incident, a security official said 35 bodies were found in a mass grave.
Members of the Albu Nimr tribe had held out for weeks under siege by ISIS fighters in Anbar Province to the west of Baghdad, but finally ran low on ammunition, fuel and food. Hundreds of tribal fighters withdrew and members of the tribe fled their main village Zauiyat albu Nimr.
ISIS rounded up many of them, shot them at close range and dumped them in mass graves. Over 300 people have been executed since the killing began in the middle of last week, Ga'oud and security officials.
ISIS militants executed at least 220 Iraqis in retaliation against a tribe's opposition to their takeover of territory west of Baghdad. Two mass graves were discovered on Thursday containing some of the 300 members of the Sunni Muslim Albu Nimr tribe that ISIS had seized this week.
Security officials and witnesses have confirmed that bodies of more than 200 people were found in mass graves on Tuesday and Wednesday, having been shot at close range.
Militants accused men and women of the Al Bu Nimr tribe of retaliating against them after being displaced from their homes when the group seized the Anbar town of Hit last month, al-Issawi said.
"These killings are taking place almost on a daily basis now in the areas under the control of the ISIS group and they will continue unless this terrorist group is stopped," al-Issawi told The Associated Press.
On Thursday in another ISIS genocide, authorities found the bodies of 48 Sunni tribesmen killed by the Islamic State group in Anbar.
Meanwhile Saturday, the United Nations mission in Baghdad said that at least 1,273 Iraqis were killed and 2010 injured in violence in October, the figures do not take into account causalities in Anbar province nor some other militant-held parts of Iraq neither recent victims of the recent mass killings conducted by ISIS group militants in Anbar province against Sunni tribesmen.
ISIS SQUEEZES VAST ANBAR PROVINCE
The vast desert province of Anbar includes towns in the Euphrates River valley dominated by Sunni tribes, running from the Syrian border to the western outskirts of Baghdad.
it was the main battleground between U.S. Marines and al Qaeda during the "surge" campaign in 2006-2007, the bloodiest phase of the U.S. war in Iraq, when American troops enlisted the tribes to help them defeat al Qaeda fighters.
Members of the Albu Nimir tribe helped the Americans war against al Qaeda in its stronghold of Anbar. Now they are on the defensive as ISIS militants who possess superior weapons exact revenge, including executions of tribesmen in public squares, for weeks of defiance.
In Anbar, the militants are encircling a large air base and the vital Haditha dam on the Euphrates. Fighters control towns from the Syrian border to parts of provincial capital Ramadi and into the lush irrigated areas near Baghdad.
Ga'oud said the 50 tribe members were killed near Tharthar Lake near a desert area. They had been wandering by foot when they were intercepted by the Sunni militants.
He said one managed to escape the carnage and get word to tribal leaders. "Forty of the dead were men. Six women and four children were killed while trying to protect their husbands and fathers," said Ga'oud."
We could not send people to retrieve the bodies because the area is still controlled by ISIS. "His account was confirmed by Faleh al-Essawi, the chief of the security committee of the Anbar Provincial Council.
In another incident 35 corpses were found on the outskirts of Ramadi. Security officials said they were dumped in a mass grave. But an eyewitness said the militants left the bodies on the ground near farmland."
The corpses were dumped two days ago. They were handcuffed and blindfolded. Some were wearing tracksuits and others were wearing dish-dash robes," he told Reuters.
Iraq Prime Minister Haider al-Abadi wants Sunni tribal leaders to support Iraq's army against ISIS.Iraq's most senior Shi'ite cleric, Grand Ayatollah Ali al-Sistani, called on the government on Friday to rush to the aid of Sunni tribal leaders.