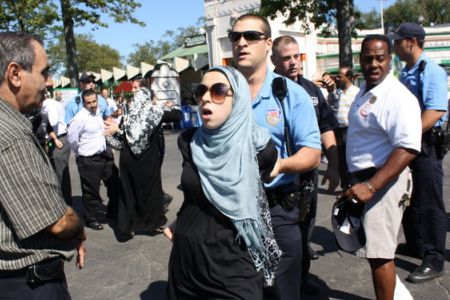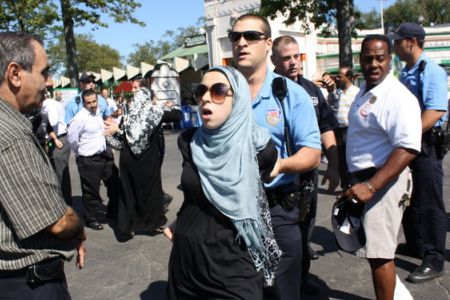 American police officers in the state of New York have clashed with Muslim individuals protesting an arbitrary ban on hijab at an amusement park and arrested at least 15 protesters.
Muslims had gathered for Eid al-Fitr festivities, marking the end of the fasting month of Ramadan, in a Westchester County park in New York on Tuesday when they realized that women with headscarves were barred from the amusement park rides, NY Daily News reported on Wednesday.
Objections to the Rye Playland headwear ban broke into scuffles and the park was shut down after police intervened and detained 15 people, including three women that were charged with 'disorderly conduct and assault.'
The incident occurred when one woman, Entisai Ali, protested to police officers over the amusement park's headscarf restriction, the report added.
"The cops started getting loud with her and she started getting loud, too. They pushed her on the ground and arrested her," said Dena Meawad, a witness at the scene.
According to the report, police also beat two young Muslims who rushed to help the woman.
"She just wanted to get on a ride. That was it," Dena Meawad said of the initial confrontation. "It's clear, this all happened because we're Muslim."
Nearly 100 cops from surrounding police departments converged in the park to subdue the disappointed Muslims.
The incident took place just after 1 p.m. local time during an event organized by the Muslim American Society of New York, which attracted 3,000 Muslims from Brooklyn, Queens, the Bronx and Westchester County.
Muslim civil rights leaders on Wednesday accused the authorities of using excessive force in the police violence.