World News
New Zealand PM to announce new gun laws after massacre of Muslims
New Zealand's Prime Minister Jacinda Ardern says she will announce new gun laws within days, which would make her country a safer place, days after a gunman massacred dozens of Muslim worshippers at two mosques in the country's "worst act of terrorism."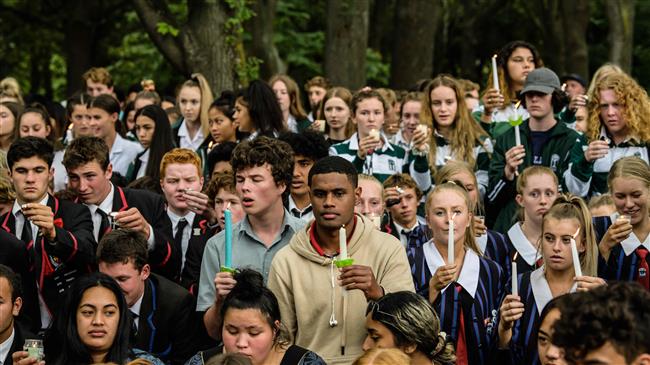 Speaking at a press conference on Monday, Ardern said her cabinet members had agreed "in principle" to reform gun laws.
"Within 10 days of this horrific act of terrorism, we will have announced reforms which will, I believe, make our community safer," said the prime minister.
New Zealand was overwhelmed by grief and shock after a gunman opened fire at two mosques in the South Island city of Christchurch during Friday prayers, killing at least 50 people and wounding 50 others, nine of whom are in critical condition, health officials said Monday.
Ardern said that the "worst act of terrorism on our shores" had exposed a range of weaknesses in the country's gun laws. "I strongly believe that the vast majority of gun owners in New Zealand will agree with the sentiment that change needs to occur."
Without detailing the reforms, Ardern said she supports a ban on automatic weapons.
She also stressed the need "to continue to ensure the safety of our Muslim communities and others."
People who do not hold the values "of openness, of diversity, of compassion" is an issue "we're going to have to confront as a nation," she added.
The gunman, identified as Brenton Tarrant, targeted Muslims by five legally bought guns. Police said two of the guns were military-style semi-automatic rifles.
"There were two other firearms in the vehicle that the offender was in and it absolutely was his intention to continue with his attack," said the prime minster.
The Australian national was arrested within 36 minutes, Ardern said.
Tarrant was charged with one account of murder at Christchurch District Court on Saturday. He will return to court on April 5. Police said he is likely to face further charges.
It was reported on Monday that he sacked his lawyer and planned to represent himself in the case.
Duty lawyer Richard Peters, who represented Tarrant during the preliminary court hearing, said he "indicated he does not want a lawyer."
"He wants to be self-represented in this case," said Peters. "The way he presented was rational and someone who was not suffering any mental disability. That's how he appeared. He seemed to understand what was going on."
Gun City rejects responsibility for selling rifles to Tarrant
The investigation into how he was able to acquire the weapons has led to a major firearms retailer, Gun City, running with stores across the country.
The managing director of Gun City, David Tipple, confirmed his company had sold Tarrant four weapons and ammunition through its online store on December 2017 and March 2018.
"We detected nothing extraordinary about this license holder," Tipple said, adding that the gunman was not sold any military-style semiautomatic rifles known as MSSAs.
"The MSSA, military-style automatic, reportedly used by the alleged gunman was not purchased from Gun City. Gun City did not sell him an MSSA, only A-category firearms," he added.
Under the country's gun laws, A-category weapons can be semi-automatic but limited to seven shots.
The owner of New Zealand's largest firearms dealer said he supported Ms Ardern's "swift" and "decisive" action following the mosque shootings.

New Zealand's Gun City owner says Christchurch gunman should 'absolutely not' have had weapons

Most New Zealander are open to gun reform, in particular cutting off access to assault rifles after 50 Muslims were shot dead with the weapons in Christchurch.
In the meantime, a popular e-commerce website, TradeMe, said it ended the sale of semiautomatic guns on its online marketplace.
"We have listened to public sentiment following Friday's terrorist attack in Christchurch and decided to remove all semi-automatic firearms sales and parts associated," TradeMe said in a statement on Monday.
OIC to convene in Istanbul
Three days after the mass killing, families of the victims express frustration over the delay in the burial of their loved ones, since authorities have not yet released the remains.
Islamic tradition calls for a deceased to be buried as soon as possible after death.
Police, however, explained that the investigation into the massacre made a quick process of returning the bodies difficult.
"The process has been very emotional and highly stressful for all and you can imagine the emotions are running high, as in accordance with the Islamic faith, the families have wanted their bodies to be returned as soon as possible. We are ensuring that we do that," said Police Deputy Commissioner Wally Haumaha.
He said that the first body had been released to their family on Saturday evening.
Among the victims were nationals from Syria, Jordan, India, the United Kingdom, Saudi Arabia and Egypt; some of whom had found refuge in the country.
Pakistani Foreign Minister Shah Mahmood Qureshi on Sunday announced that an emergency meeting of the Council of Foreign Ministers of the Organisation of Islamic Cooperation (OIC) has been called on March 22 in Istanbul to discuss the terror attack.
Tarrant visited Israel two year ago
An Israeli official says the gunman had paid a nine-day visit to Israel back in 2016.
Tarrant, an Australian national, entered Israel in October 2016 on a three-month tourist visa, the official with Israel's Population and Immigration Authority told Reuters.
There were no further details available on what the man did during his stay in Israel, according to the official.
The Australian embassy and New Zealand consulate in Israel did not comment on the report.