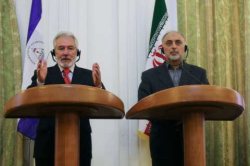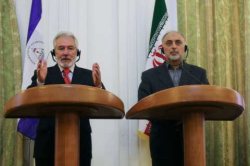 Nicaraguan Foreign Minister Samuel Santos Lopez on Sunday underlined the need for immediate destruction of all nuclear weapons throughout the world.
He made the remarks in a joint press conference with his Iranian counterpart Ali Akbar Salehi.
Answering a question about Israel's nuclear weapons, Santos said Nicaragua's stance in this regard is transparent and it is opposed to development of any nuclear weapons.
He said Nicaragua is interested in expanding ties with Iran and utilizing its capabilities in all fields.
The Nicaraguan foreign minister said Iranian and Nicaraguan officials can cooperate in all fields of interest.
Pointing to his country's debts to Iran, Santos said the two countries' officials are working to find a way for repayment of this debts in a way that can be to the best interest of the two nations.
He said that there is no other way but negotiations and talks between states and nations to settle their differences and building good relations.