Europe
Nine more troopers killed in new clashes on Armenia-Azerbaijan border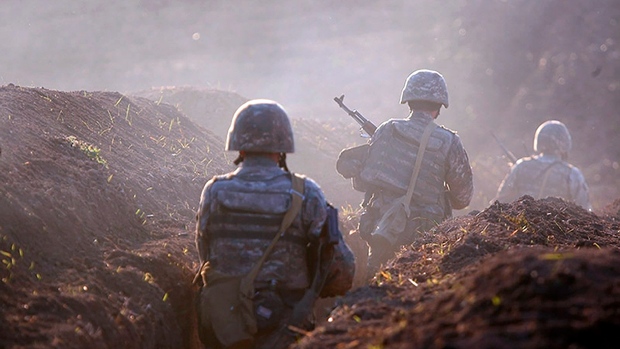 At least nine more troopers have been killed on the third straight day of clashes between the armed forces of Azerbaijan and Armenia on their border.
Azerbaijan said seven of its soldiers had died in the fighting on Tuesday, including two senior officers, while Armenia said two of its troops had been killed.
Azerbaijan's Deputy Defense Minister Karim Valiyev also confirmed that a major general, a colonel, and five other servicemen had "heroically died in action."
At least four Azeri troops had been killed in clashes on Sunday and Monday. The Azerbaijani Foreign Ministry also said that one civilian had been killed in an artillery strike on a village in Tovuz region.
The fighting between the arch-foes in the rugged South Caucasus since Sunday has been the heaviest in years. Each side has accused the other of encroaching on its territory.
Azerbaijan said that the Tuesday fighting started after the Armenian army fired at Azerbaijani positions from its northeastern Tavush region with artillery, mortars, and large-caliber machine guns.
Anna Naghdalyan, the spokesperson for the Foreign Ministry of Armenia, in a statement accused Azerbaijan of using drones to attack civilian sites in the town of Berd in Tavush.
"This aggression against the security of the civilian population of Armenia will receive a proportionate response, for which the Azerbaijani side bears full responsibility," the statement read.
Azerbaijan has been engaged in a dispute with Armenia over Karabakh — an Azerbaijani territory seized by Armenian separatists in a bloody war in the 1990s. Some 30,000 people were killed in the conflict, which ended with a fragile truce in 1994. In 2016, scores were killed in four days of renewed fighting.
The latest clashes occurred some 300 kilometers from the mountainous region.
Russia offers to mediate
Meanwhile, Kremlin spokesman Dmitry Peskov told reporters on Tuesday that the clashes on the border between Azerbaijan and Armenia were deeply concerning and that Moscow was ready for mediation.
Peskov also urged both countries to show restraint.
"We are deeply concerned by shootouts on the Armenian-Azeri border," the Russian official said. "We are calling on both sides to exercise restraint and honor their obligations as part of a ceasefire. As we have repeatedly said on different levels, Russia is ready to provide mediation efforts for settlement, as a co-chair of the [OSCE] Minsk Group."
Iran, too, has repeatedly offered to broker peace.
Mediated by the Minsk Group of diplomats from Russia and some Western countries, peace talks between Azerbaijan and Armenia have been going on since the 1994 ceasefire.
Last week, Azerbaijani President Ilham Aliyev threatened to withdraw from talks "if they do not yield results," and rejected statements by negotiators that there could be no military solution.