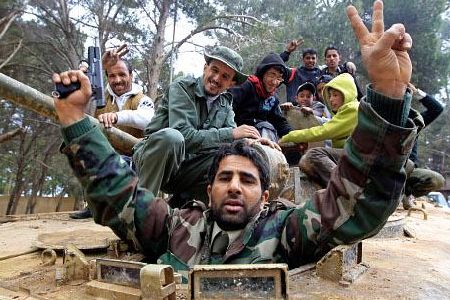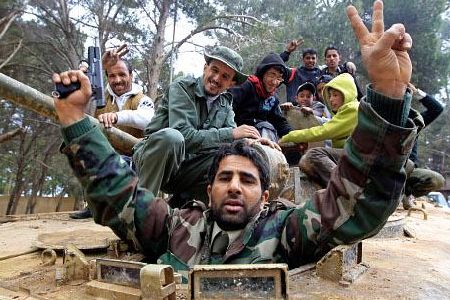 Revolutionary forces continue to grow despite Libyan ruler Muammar Gaddafi's fanatical lies of the existence of a civil war.
In an interview with Press TV Sondes Malek, a member of the Libyan Youth Association in London, speaks in depth about the myth Gaddafi has spread about the Libyan uprising degenerating into civil war, as well as the need for a no-fly zone, albeit without military intervention from the international community.
Press TV: Where is Libya headed, do you think, in this current situation? Is this going to be an extensive civil war, are we going to see Libya splitting, or are we going to see the situation reach a point where we might even see a foreign imposed intervention, or a war in Libya?
Malek: First of all, the only people that are using the term 'civil war' are people outside of Libya. The Libyans themselves do not see a civil war occurring whatsoever. They're united. They're asking the world to see them as one nation, one people. The people in Benghazi who have no interim government have, within the council, people in Tripoli and the West; although, their names will not be disclosed due to security reason. Obviously, some parts of the West are under the control of Gaddafi; (but) it is [still] one nation. There is no split of division among the Libyans. It's Gaddafi's lies, his term of civil war in his speeches, that has brought about this concept of civil war. The Libyans don't see that whatsoever.
As for foreign intervention, the Libyans, even though the deaths started happening and human rights organizations within Libya say it could be up to 6000 who have died, even with those amounts, they don't want foreign intervention. The only thing they're asking for is a no-fly zone because that's the biggest threat to them at the moment — it is the planes and the helicopters from Gaddafi shooting at the people. Other than that, they don't want any foreign intervention on Libyan soil, and they're still demanding that the world listen to them at this point.
Press TV: With a prolonged battle between the revolutionary forces and the pro-regime forces, do you think that this battle going on is going to be in the favor of Gaddafi in the long run or is this is going to help the revolutionary forces launch that key attack on Tripoli and force Gaddafi to go?
Malek: It's not working for Gaddafi, most definitely. Some think the momentum is growing; it's like a snowball effect. The longer it takes, the more people are joining the revolutionaries. So it's not to his … benefit. It's up to the benefit of the revolutionaries. And they're making their way to Tripoli.
Obviously, the thing about Libya is geographical. It's not like Egypt or Tunisia where it took one major city for Ben Ali or Mubarak to go. Libya is split into cities and villages and what-not, so it's a case of having to go to these different cities and villages and liberate them on the way to Tripoli. And obviously, the major one that they are trying to target right now is "Suluq" because, strategically, it's an area that both the Gaddafi forces and the revolutionaries want. Because once it's given to the revolutionaries, Gaddafi is out. He knows this; hence, the reason why he is using his military forces around Ajdabiya, Subha, and Suluq, itself. And the revolutionaries know this, and they're on their way. Like I say, they're growing in numbers, in momentum and they are optimistic more than anything else.
Press TV: Speaking of that offer for talks on Gaddafi's exit, if that report is true, Sondes, if you could tell me, do you think that this shows that Gaddafi is nearing his end?
Malek: I hope so. If it is true, then obviously, he is starting to realize that he could no longer have any power or say in Libya. And maybe he's come to his senses that the people don't want him. It could be that his sons have advised him. The people close to him have advised him to do so, if it is true.
At the same time, you have to realize that for 42 years the Libyan people have known this man and they know that he is capable of changing his face so many times. He'll say one thing and then he'll do something else completely. At the moment, there's no trust. The committee in Benghazi doesn't trust this man. Even if he's requested leave with security, that he won't be prosecuted or whatever, it doesn't mean to say that what he actually means is true; it could mean that what he says is to buy time to gather his forces in order to make a huge attack. So who knows?
I can actually understand why the committee may have said [if Gaddafi] leaves, he would not be prosecuted in court or anything like that, because at the moment, the price of our youth, who are dying, nothing can bring them back. So, the ones that are alive are priceless. They are willing to let Gaddafi go for the sake of lives in Libya because the lives of the revolutionaries are a priority at the moment. We're talking about the lives of the people here.
Press TV: This might take more than days, even months, and more bloodshed. What do the Libyan people and the revolutionary forces need as a breakthrough to help them succeed in their fight? Do you think the situation does need a breakthrough, and if it does need one what is that breakthrough going to be?
Malek: I was speaking to Libya yesterday, and I was speaking to someone who was on the frontline, and I asked them the very same question, and they're saying that the only help they need, apart from God's help, is a no-fly zone over Libya so that Gaddafi does not attack them with his helicopters. This is where the majority of attacks are happening and how the youth, or the revolutionaries, are getting killed. And what the breakthrough would be, he actually said "breakthrough," is a no-fly zone to prevent any more attacks from the air because they are saying they are under control with the attacks on the ground. Just in the air, that's a problem. That's the only breakthrough they need. And also, in certain barracks, like the one in Attica Khamis, the generals in those barracks can resign and leave and join the protesters. That, itself, would be a breakthrough, as well, because that's the biggest barrack and that's surrounding Gaddafi at the moment.
Press TV: Do you think that the way the international community has been responding to the situation in Libya, for instance, the no-fly zone, do you think that it is coming a bit late and delayed in terms of the time it's taking the international community to act towards the Libyan people?
Malek: Yes, I agree. And it's been very slow, seeing as how the uprising began on the 15th — not on the 17th, and it's just now that the international community is starting to discuss it and things concerning Libya. It has been very slow and it's still very slow. We're talking about every hour people are dying. And people are sitting and discussing whether we should do this or do that. The price of humanity — the price of human blood in Libya — doesn't seem to be quite as high a priority in such matters. But at least they're talking and something is starting to get done. At least the Arab world has started to talk, as well. They are requesting a no-fly zone. It was just yesterday, but at least, it's been done now. So it was slow, and it's still slow. I just urge the international community to do something quickly because we're talking about the lives of humans here and it's not something that should be slowed down or put on hold.