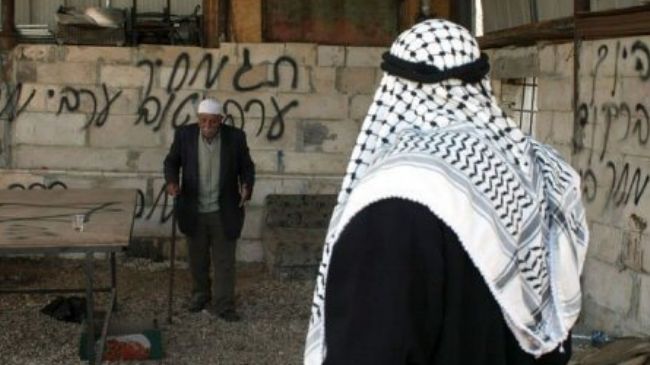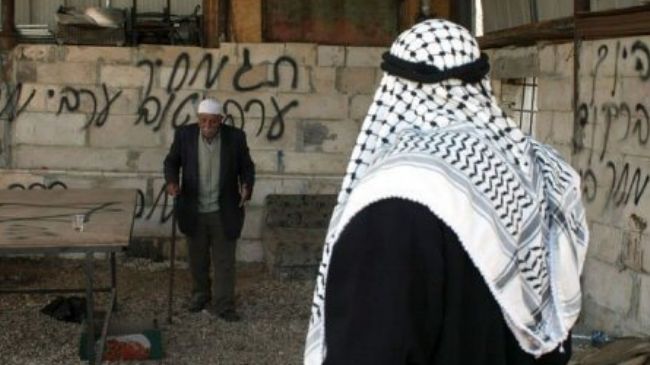 The former chief of Shin Bet, the Israeli security agency, says Tel Aviv does not stop the "price tag" attacks against Palestinian properties, because it lacks the desire to do so.
"We don't see results because we don't have the intention to," Carmi Gillon said on Saturday, adding that in the Shin Bet "there's no such thing as can't – there's don't want to."
He further said that if the head of the Shin Bet "decides to deal with a certain issue, there will be results."
Israeli settlers regularly launch price tag attacks against Palestinians.
Price tag attacks are acts of vandalism and violence against Palestinians and their properties as well as Islamic holy sites.
Israeli police said on Saturday that Israeli vandals launched a price tag attack against a Palestinian field in the occupied West Bank, uprooting dozens of olive trees.
In a similar assault, vandals attacked a car in the northern city of Acre, the Israeli news site Ynet reported on Saturday, adding that they "wrote 'price tag' and drew a Star of David on the vehicle."
The United Nations has recorded "399 attacks" of this kind by Israel's illegal settlers, which have "resulted in Palestinian injuries or property damage."
The presence and continued expansion of Israeli settlements in occupied Palestine has created a major obstacle for the efforts to establish peace in the Middle East.
More than half a million Israelis live in over 120 illegal settlements built since Israel's occupation of the Palestinian territories of the West Bank and East al-Quds in 1967.
The UN and most countries regard the Israeli settlements as illegal because the territories were captured by Israel in a war in 1967 and are hence subject to the Geneva Conventions, which forbid construction on occupied lands.