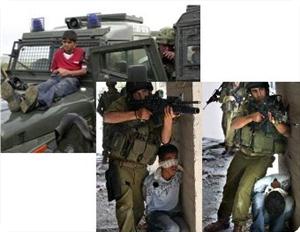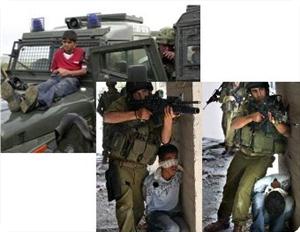 The Israeli occupation forces on February 17 forced a young Palestinian boy at gunpoint to walk among them as they were attacking Palestinian protestors outside Ofer prison in Ramallah, according to a report issued by defense for children international (DCI).
Mustafa Wahdan, a nine-year old boy, told DCI that he was on his way home from his elder brother's car wash service, about 300 meters from Ofer jail, when the clashes heated up, forcing him to take shelter in a nearby store as result of the intensity of tear gas.
Some Israeli soldiers, who saw him enter the store, went to detain him and ordered him to raise his hands behind his back, exploiting him as a human shield for several hours as they were firing tear gas grenades and rubber bullets at stone-throwing protestors.
"Whenever they wanted to fire tear gas or bullets at the protesters, they would take me with them. I was very scared that I could be hit with stones or anything else," Wahdan elaborated.
"At home, Mustafa still feel very scared because of the experience he underwent," the father of the boy Mohamad Wahdan said.
"He was silent and did not have his dinner that day. In the morning, my wife told me that Mustafa was shaking while he was asleep," the father added.
The DCI stated that the use of human shields is prohibited by the international humanitarian law, and involves the forced presence of civilians to shield an area or soldiers from harm or forcing civilians to directly assist in military operations.