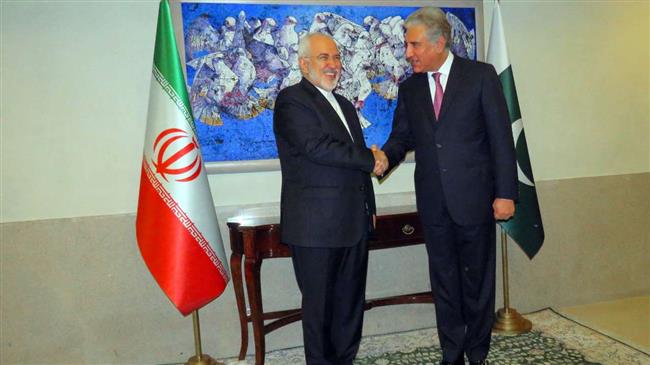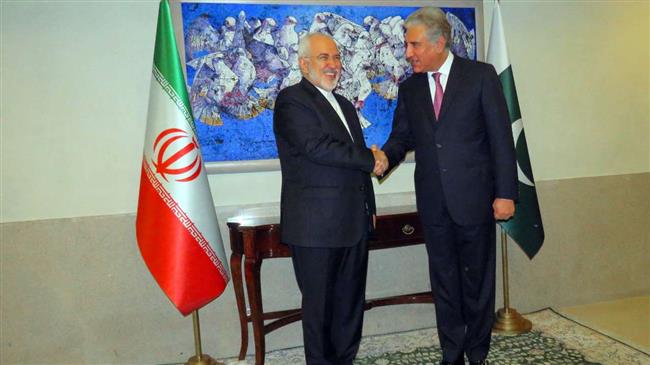 Iranian Foreign Minister Mohammad Javad Zarif says Pakistan is an "important" neighboring country to Iran, stressing that no third country can negatively affect relations between the two countries.
In a meeting with Pakistani Foreign Minister Makhdoom Shah Mahmood Qureshi in Islamabad on Friday, Zarif said Tehran sets no limitation to the expansion of ties with Islamabad.
He stressed the importance of improving mutual relations at regional and international levels, saying the two countries must further strengthen cooperation in the sectors of border security and banking as well as cooperation between Iranian and Pakistani ports of Chabahar and Gwadar.
According to a statement by Ministry of Foreign Affairs of the government of Pakistan, the newly-appointed Pakistani foreign minister, for his part, said Tehran and Islamabad have potential for strengthening the already strong bilateral relationship, adding that the two sides have stood by each other in difficult moments.
It added that both sides held detailed discussions about regional and global issues, including the situation in Afghanistan and US decision to unilaterally withdraw from the historic nuclear deal Iran signed with the P5+1 group of countries in 2015.
President of the United States Donald Trump withdrew Washington in May from the landmark Iran nuclear agreement, officially known as the Joint Comprehensive Plan of Action (JCPOA), and decided to re-impose unilateral sanctions against Tehran.
Under the deal, Iran undertook to put limits on its nuclear program in exchange for the removal of nuclear-related sanctions.
The statement also noted that the top Iranian and Pakistani diplomats agreed to host the next rounds of bilateral political consultations and the joint economic commission at early dates.
It said the two sides exchanged useful views on ways to strengthen cooperation in economic, cultural, trade and connectivity sectors and agreed to continue close consultations on border security through various forums.
Qureshi supported Iran's principled stance on the JCPOA and expressed hope that the remaining parties to the agreement would uphold their commitments in letter and spirit.
He emphasized that the International Atomic Energy Agency (IAEA) has repeatedly verified that Iran had strictly adhered to the terms of the JCPOA and said Pakistan stands with Iran in this hour of need.
On Thursday, the IAEA once again reaffirmed Iran's full compliance with its commitments under the Iran nuclear deal in the second such report after the US stopped fulfilling its side of the bargain and left the multilateral agreement in violation of international law.
The UN atomic watchdog reports that Iran has remained compliant with the 2015 nuclear deal, over three months after the US stopped fulfilling its side of the bargain.
"Timely and proactive cooperation by Iran in providing such access facilitates implementation of the Additional Protocol and enhances confidence," it said.
Zarif, Imran Khan urge enhanced ties
In a meeting between the Iranian foreign minister and Pakistan's Prime Minister Imran Khan, the two sides stressed the importance of developing cooperation in various fields.
Zarif and Imran Khan said Muslim countries should strengthen close cooperation to solve issues related to the Muslim world and the region.
They also called for enhanced efforts to establish peace and stability in all regional countries and fight against terrorism and extremism.
The Pakistani premier said his country welcomes any opportunity to improve all-out relations with Iran, particularly in trade and economic sectors.
Zarif also emphasized that the two neighboring countries of Iran and Pakistan should boost cooperation to counter any plot aimed at spreading Islamophobia.
Iran ready for anti-terror cooperation with Pakistan: Zarif
In a meeting with Pakistan's Chief of Army Staff General Qamar Javed Bajwa, the Iranian foreign minister said the two countries must improve cooperation to boost security in border areas and expressed Tehran's readiness to cooperate with Islamabad in the fight against terrorism and extremism.
"Terrorism is a regional and global phenomenon and Iran is ready to cooperate with Pakistan in this regard," Zarif said.
The two sides also discussed ways to develop military and security cooperation and expressed hope that Tehran and Islamabad would further increase relations given their common goals, interests and border concerns.
Upon arrival in the Pakistani capital on Thursday, Zarif held a meetingwith the country's newly-elected National Assembly Speaker Asad Qaiser, with the two officials exchanging views on issues of common interest.