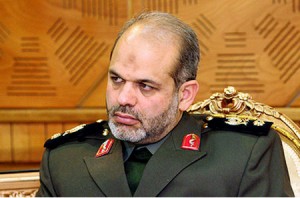 Iran's Defense Minister Brigadier General Ahmad Vahidi has lashed out at the United States for its dual-based nuclear policies.
"The US is working on a new generation of nuclear bombs. It also defends Israel that has tens of nuclear warheads but it opposes Iran's peaceful use of nuclear energy. This shows a double-standard in their nuclear policies," ISNA quoted Vahidi as saying on Wednesday.
The Iranian minister also rejected the possibility of a military strike against Iran's nuclear sites by Israel or the United States.
"The Zionist regime of Israel is too weak to attack Iran," he added.
"No trace of Israel will remain if the Zionist regime declares a war on Iran," he warned.
Tehran has repeatedly dismissed Israeli threats of military strikes against Iran as psychological warfare aimed at pressuring the Islamic Republic to abandon its peaceful nuclear work.
Israel and its Western backers have repeatedly accused Iran of pursuing a nuclear weapon capability under the guise of a civilian nuclear program.
The Iranian government, however, has fiercely dismissed such claims as mere attempts by Western nuclear powers to prevent Iran's rapid advances in the field of nuclear technology.
Aggressive Israeli efforts against Iran's nuclear program come despite widespread reports of its possession of over 200 nuclear warheads that was acquired with blessings from Tel Aviv's Western sponsors. Israel has refused to sign or commit to any international atomic regulatory treaties.
Meanwhile, as a signatory to the Nuclear Non-Proliferation Treaty (NPT), Iran has opened its nuclear facilities to intrusive inspections and round-the-clock supervision by the UN nuclear watchdog, the International Atomic Energy Agency (IAEA).
Moreover, Iran has also called for an international abandonment of all nuclear weapon arsenals and development efforts, which has been ignored by all countries possessing nuclear weapons.
IAEA has repeatedly reported that it has found no evidence of any diversion of nuclear materials from civilian to military applications in Iran.