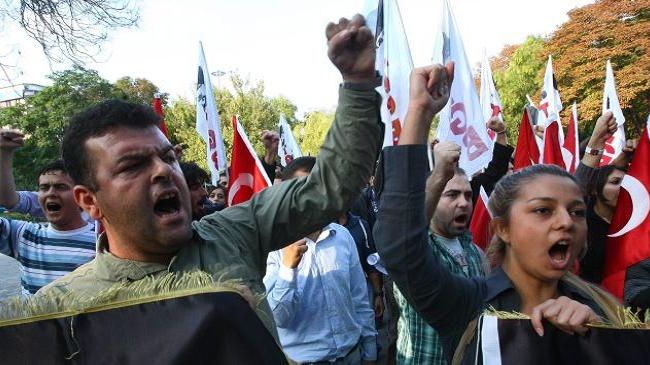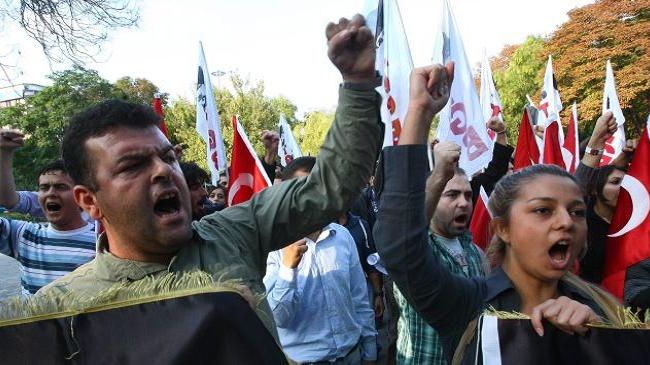 Members of the Union of Turkish Youth have staged an anti-war protest in Ankara to condemn the Turkish government's policy on Syria.
On Tuesday, the protesters waved Turkish, Syrian, and Palestinian flags during the demonstration and chanted slogans in condemnation of Ankara's hostile approach toward Damascus, AFP reported.
On the same day, Turkish Prime Minister Recep Tayyip Erdogan warned that Turkey's armed forces would not hesitate to strike back in response to any strike on Turkish soil.
The Turkish and Syrian militaries exchanged artillery fire for a sixth straight day on Monday.
In the latest cross-border incident, a Syrian artillery shell fell on Turkey's border province of Hatay. The round reportedly landed in a cotton field near the town of Altinozu. People were working in the field but no one was injured.
Turkey retaliated, as it did on the five previous days, and struck areas inside Syria.
On October 5, Erdogan said that Turkey was not far from war with Syria due to the cross-border attacks.
"We are not interested in war, but we're not far from it either," Erdogan told a crowd in Istanbul.
"Those who attempt to test Turkey's deterrence, its decisiveness, its capacity; I say here they are making a fatal mistake," he warned.
On October 4, the Turkish parliament authorized cross-border military action against Syria "when deemed right."
Tensions have been running high between Syria and Turkey, with Damascus accusing Turkey — along with Saudi Arabia and Qatar — of backing a deadly insurgency that has claimed the lives of many Syrians, including security and army personnel.
In an interview with the Turkish daily Cumhuriyet in July, Syrian President Bashar al-Assad said Ankara "has supplied all logistic support to the terrorists who have killed our people."