Korea
North Korea conducts 'successful' H-bomb test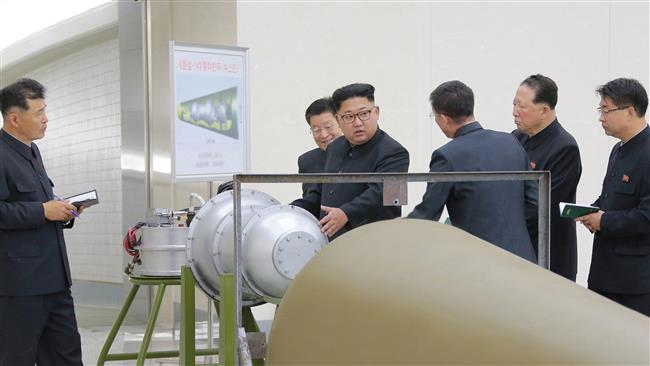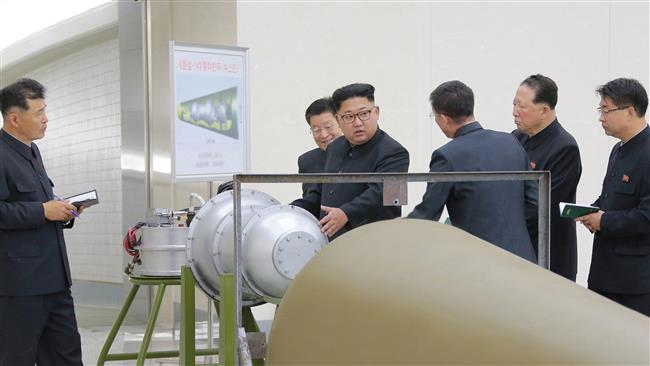 North Korea says it has conducted a "successful" hydrogen bomb test, hours after two tremors were detected in the country.
North Korean state television said on Sunday that, "The hydrogen bomb test was a perfect success," adding that the device was capable of being loaded onto long-range missiles.
The newsreader on the official Korean Central Television said the test had been of a bomb with "unprecedentedly large power," and that it "marked a very significant occasion in attaining the final goal of completing the state nuclear force."
The broadcaster showed an image of North Korean leader Kim Jong-un's handwritten order for the test to be carried out at noon on September 3.
The announcement came after Japanese, South Korean, and US meteorological organizations said they had detected two tremors in North Korea.
The United States Geological Survey (USGS) on Sunday detected a first tremor, saying in an updated reading that the quake measured 6.3 on the Richter scale at a depth of 10 kilometers, 24 kilometers northeast of Sungjibaegam in North Korea.
South Korea's Joint Chiefs of Staff said in a statement that the seismic tremor had been detected near the North's Punggye-ri nuclear test site.
China detected a second tremor, which it said was magnitude 4.6 and came at a depth of zero kilometers eight minutes after the first quake.
While South Korean officials said that the tremors were likely caused by a nuclear explosion, Japan said in certain terms that a nuclear test had occurred.
"After examining the data, we concluded that it was a nuclear test," Japanese Foreign Minister Taro Kono said at a briefing after a meeting of Japan's National Security Council.
Japan's Ministry of Defense said it had dispatched at least three military jets from bases in Japan to test for radiation.
China 'strongly condemns' test
In a statement issued on Sunday, the Chinese Foreign Ministry "strongly condemned" North Korea's hydrogen bomb test and the development of the warhead to be mounted on missiles.
North Korea "has ignored the international community's widespread opposition, again carrying out a nuclear test. China's government expresses resolute opposition and strong condemnation toward this," the statement read.
South Korea urges 'strongest punishment'
South Korean President Moon Jae-in also called for the "strongest punishment" against Pyongyang, including new United Nations sanctions "to completely isolate North Korea."
Presidential security adviser Chung Eui-Yong cited Moon as saying that the South would discuss deploying "the strongest strategic assets of the US military," referring to tactical nuclear weapons, which had been withdrawn by Washington in 1991.
The 'bomb'
Just earlier on Sunday, North Korea's official Korean Central News Agency (KCNA) reported that the country had developed a hydrogen bomb that could be loaded into a new intercontinental ballistic missile.
The developments come amid high tensions over the North Korean missile and nuclear programs.
South Korea, the US, and Japan have been unnerved by the North's weapons programs, which Pyongyang has been defiantly advancing as countermeasures to their hostility.
On Tuesday, North Korea fired a Hwasong-12 missile — reportedly capable of carrying a nuclear payload — that traveled nearly 2,700 kilometers into the Pacific, including over Japan.
The violation of Japanese airspace sparked angry reactions from Japan and the US, as well as calls for restraint by other countries, including Russia and China. The launch also prompted a United Nations Security Council condemnation.