Korea
North Korea offers to give up nukes in exchange for security guarantees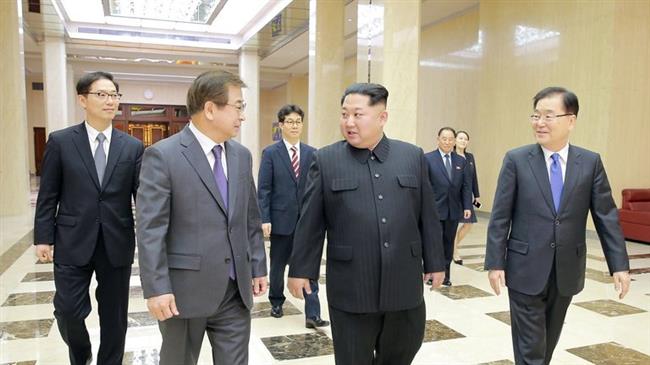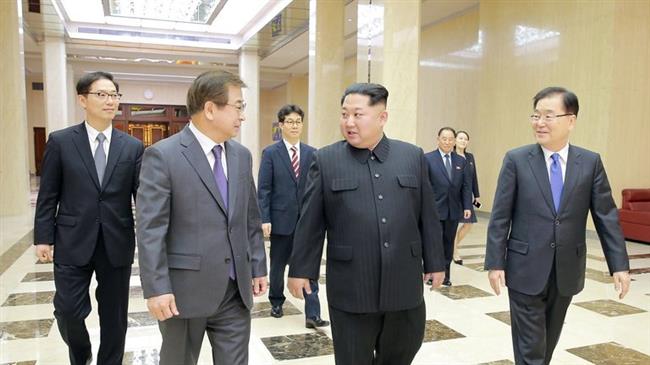 North Korea has said it would consider abandoning nuclear weapons in exchange for security guarantees, a South Korean envoy says.
Following a meeting with North Korean leader Kim Jong-un, Chung Eui-yong, the national security adviser to South Korean President Moon Jae-in, said on Tuesday that Pyongyang was willing to abandon its nuclear weapons "if military threats towards the North are cleared and the security of its regime is guaranteed."
"The North made clear its willingness for the denuclearization of the Korean peninsula, and made clear that there is no reason to own nuclear (programmes) if military threats towards the North are cleared and the security of its regime is guaranteed," Chung said.
The South Korean official added that Kim and Moon would meet in late April at the fortified border village of Panmunjom to discuss a range of issues. "The South and the North agreed to hold the third summit at… Panmunjom in late April."
The previous two summits were held in 2000 and 2007.
The leaders will have their first phone conversation before the planned summit, he added. North Korea also pledged that it would freeze its nuclear and missile testing program during the period of dialogue.
Elsewhere in his remarks, Chung said the two sides would establish a leader-to-leader hotline to "defuse military tension and to have close coordination."
Tensions have been high between Washington and Pyongyang over North Korea's missile and nuclear programs.
Washington claims it prefers a diplomatic solution to crisis, but it has repeatedly threatened Pyongyang with military action.
After months of soaring tensions that have seen US President Donald Trump trade insults and threats with North Korea, temperatures cooled dramatically as South Korea hosted the Winter Olympics.
Inspired by Moon's policy of reducing tension with the North, South Korea used the recently-held Winter Olympics in Pyeongchang as a major opportunity to open the doors for dialogue.
The games in fact came amid some unprecedented escalation of hostilities between the North on one side and the United States and allies in Asia on the other. There was even a risk of an all-out nuclear confrontation in the region late last year when Pyongyang carried out a series of massive nuclear and missile tests.
North Korea in late February censured the latest round of sanctions imposed by Washington against Pyongyang as an "act of war," accusing the US administration of trying to undermine an improvement in inter-Korean relations triggered by the Winter Olympic Games in the South.
The condemnation came after the US Treasury blacklisted more than 50 North Korea-linked shipping companies, vessels, and trade businesses, imposing an asset freeze and barring US citizens from dealing with them.
North and South Korea have been separated by a heavily-militarized border since the three-year Korean War came to an end in 1953. The conflict ended with an armistice rather than a formal peace treaty and left many families separated at the two sides.
North Korea, for its part, says its nuclear arsenal is a deterrent against potential US aggression.