Korea
Asia-Pacific
North Korea says it conducted 2nd 'important' reconnaissance satellite test
North Korea says it has conducted "another important" test for reconnaissance satellite systems, only a day after firing at least one suspected ballistic missile.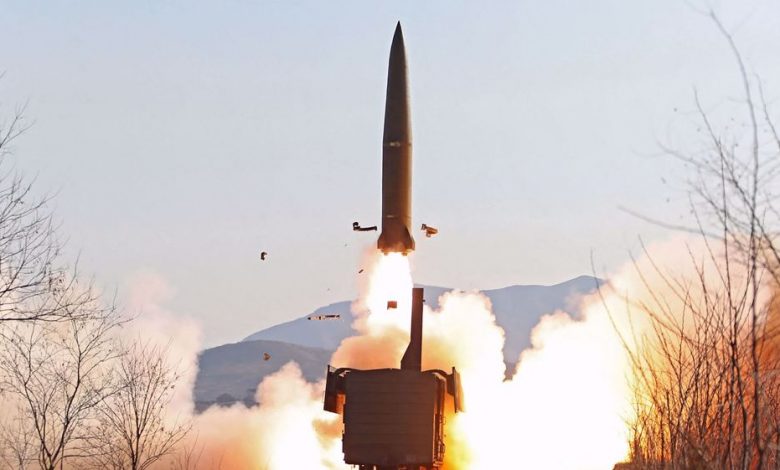 Reporting on Sunday, state news agency KCNA said the North's National Aerospace Development Administration (NADA) and the Academy of Defense Science had conducted the launch "under the plan of developing a reconnaissance satellite."
It was the second such launch in a week to test satellite equipment, and the ninth missile launch by Pyongyang this year.
"Through the test, the NADA confirmed the reliability of data transmission and reception system of the satellite, its control command system and various ground-based control systems," KCNA said.
Although KCNA did not elaborate on the type of rocket used in the launch, South Korean authorities said the rocket used during the launch appeared to be a ballistic missile fired from an area near the North's capital Pyongyang, where its international airport is located.
South Korea's military said the North Korean missile reached a height of about 560 km (350 miles) and flew 270 km (170 miles).
Saturday's test came just days ahead of a presidential election on Wednesday in South Korea, where officials claimed the North was making an attempt to launch its spy satellite into orbit in the near future.
Analysts insist, however, that tensions with Pyongyang are no longer considered a major issue in South Korean elections, with issues such as domestic income inequality and youth unemployment being among top concerns of voters.
They further state that if South Korea's ruling Democratic party loses on Wednesday, it could herald a shift in Seoul's North Korea policy.
One of the two frontrunners, hawkish former prosecutor Yoon Suk-yeol of the opposition People Power Party, has threatened a preemptive strike on the country's nuclear-armed neighbor if needed.
The North has vowed to strengthen its nuclear "war deterrent" and build more powerful weapons.
Last year, North Korea's leader Kim Jong-un announced a new five-year plan for developing weapons and issued an ambitious wish list that included hypersonic weapons, spy satellites, solid-fuel intercontinental ballistic missiles, and submarine-launched nuclear missiles.
Kim has concentrated on expanding his country's nuclear and missile capabilities since his diplomacy with former United States' President Donald Trump ended without an agreement in 2019.
Trump took unprecedented steps towards apparently fraternizing the North by initiating several rounds of dialogue with it and even walking a number of steps into the country alongside North Korea's leader.
However, Washington blew what Pyongyang called a "golden opportunity" at mending the situation by insisting too much on the North's denuclearization.
Despite its insistence on North Korea's denuclearization, Washington has fiercely refused to reciprocate by downgrading its massive military presence and activities in the Korean Peninsula.
Pyongyang has rebuffed the administration of Trump's successor Joe Biden's repeated offers of nuclear negotiations.
The Biden administration imposed its latest sanctions against Pyongyang last month. It further called on the UNSC to take action against several North Korean individuals and entities accused of violating resolutions that ban the North's missile and nuclear weapons development.
Reacting to the move, a Pyongyang's foreign ministry spokesperson emphasized in a statement last month that the new US sanctions underscore hostile American intent aimed at "isolating and stifling" North Korea despite Washington's repeated calls for the North to resume diplomacy.
"The US is intentionally escalating the situation even with the activation of independent sanctions, not content with referring the DPRK's just activity to the UN Security Council," the statement said.