Asia-Pacific
Korea
North Korea says will 'no way' abandon nuclear program without trust in US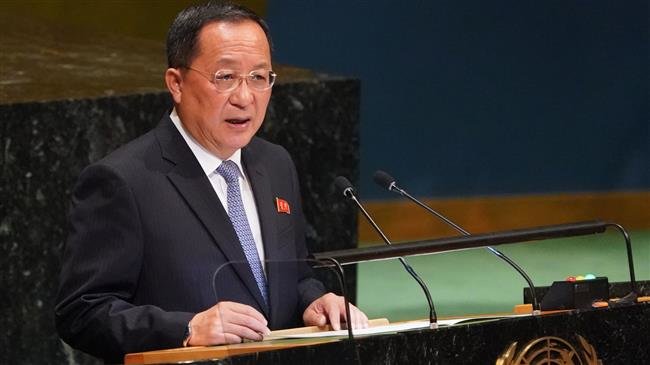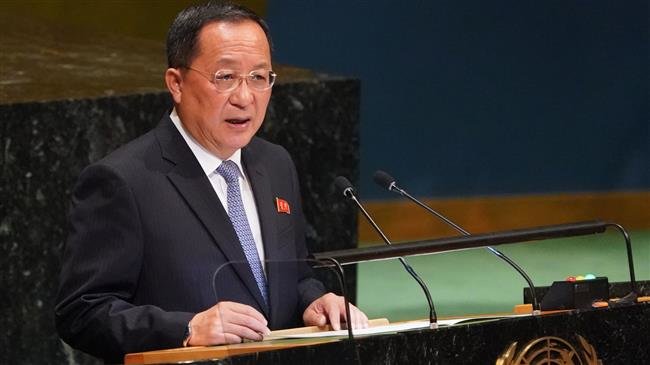 North Korean Foreign Minister Ri Yong-ho says continued sanctions against the North are just further deepening the rift of mistrust in the United States, stressing that there is "no way" that his country will abandon its pursuit of nuclear weapons unilaterally as long as Washington is resolved to push for tough enforcement of sanctions against Pyongyang.
"Without any trust in the US there will be no confidence in our national security and under such circumstances there is no way we will unilaterally disarm ourselves first," said North Korea's top diplomat, addressing world leaders at the 73rd session of the United Nations General Assembly in New York on Saturday.
Ri added that his country had taken "significant goodwill measures" in the past year, such as halting nuclear and missiles tests, dismantling the nuclear test site, and pledging not to proliferate nuclear weapons and nuclear technology. "However, we do not see any corresponding response from the US."
On June 12, at a historic summit with US President Donald Trump in Singapore, North Korean leader Kim Jong-un agreed to "work towards complete denuclearization of the Korean Peninsula" in return for security guarantees and an end to a dangerous stand-off with US forces. Kim had earlier said his country's nuclear arsenal was a deterrent against potential US aggression.
While the summit has since been seen as a test for diplomacy that could end the long-running nuclear standoff, foreign policy experts say the stakes are high if it does not result in a nuclear agreement.
The North's leader has already told Trump that denuclearization depends on ending antagonism between the two nations, while Washington says tough sanctions will remain in place against Pyongyang until its complete denuclearization.
President Trump still calls North Korea an "unusual and extraordinary threat" to the US, despite a historic summit with its leader earlier this month.
Ri further told the assembly that the White House was in fact creating a deadlock in talks on denuclearization of the Korean Peninsula.
"The recent deadlock is because the US relies on coercive measures which are lethal to trust-building," he said, adding that Washington is insisting on a "denuclearization-first" policy that "increases the level of pressure by sanctions to achieve their purpose in a coercive manner."
He further warned that sanctions would never make North Korea surrender and give up its nuclear program. "The perception that sanctions can bring us on our knees is a pipe dream of the people who are ignorant about us. But the problem is that the continued sanctions are deepening our mistrust."
Ri made no mention of plans for a second summit between Kim and Trump that the American president highlighted during his speech at the assembly earlier in the week.
Earlier this week, however, the North's top diplomat met with US Secretary of State Mike Pompeo, who agreed to return to Pyongyang next month to discuss US requests that the North scrap its weapons programs.
The UN Security Council has unanimously imposed several rounds of tough sanctions on North Korea since 2006 in an attempt to choke off funding for Pyongyang's nuclear and ballistic missile programs.
North Korea stresses that denuclearization will have to be phased, with each stage coming in return for reciprocal steps by the US, potentially including the removal of US forces from the South Korea and lifting rounds of sanctions one by one.
Some analysts, however, do not believe Pyongyang intends to give up its nuclear or ballistic missile weapons program easily any time soon. Pyongyang knows very well that accepting to dismantle its nuclear arsenal could ultimately lead to its destruction as was the case in Libya.