Korea
Asia-Pacific
North Korea stages nighttime military parade, marking founding anniversary of nation
North Korea has held a nighttime military parade in the capital Pyongyang to mark the founding anniversary of the nuclear-armed country, the state media say.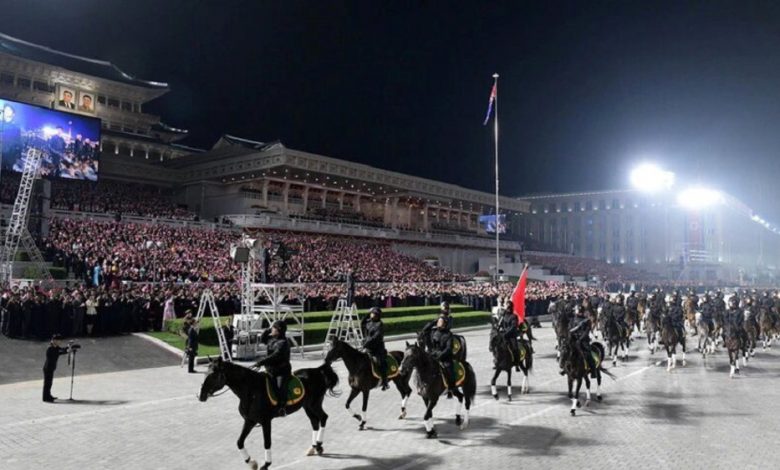 North Korean leader Kim Jong-un presided over the parade held at Kim Il Sung Square in the capital Pyongyang in the early hours of Thursday, the official Korean Central News Agency (KCNA) said in a report.
The parade held to mark the 73rd anniversary of the Democratic People's Republic of Korea (DPRK) did not appear to show off any ballistic missiles or other advanced weaponry but included an aerial display by warplanes.
The report did not say whether the 37-year-old leader delivered any remarks or whether any ballistic missiles were unveiled at the parade.
Instead, the still images by KCNA showed that the parade had small artillery, fire trucks, and rows of individuals wearing what were described as domestically manufactured orange hazmat suits, complete with hoods and gas masks, as fighter jets were flying over the square in a show of power.
This is the third such parade held in North Korea in less than a year and the first since US President Joe Biden took office. The display of might is perceived by some analysts as a possible way, though not so provocative, to pressure Washington amid stalled nuclear talks, which were kicked off by former American president Donald Trump.
During the last parade, which marked a five-yearly congress of the ruling Workers' Party, held days before Biden's inauguration in January, the North displayed submarine-launched ballistic missiles rolling through Kim Il Sung Square in front of Kim, with KCNA describing them as the "world's most powerful weapon."
"We are closely monitoring the situation," AFP quoted an unnamed official of South Korea's defense ministry as saying. "More details require further analysis," the official added.
Trump met with Kim three times in a declared attempt to resolve Pyongyang's nuclear programs, over which the North has been punished by rounds of crippling sanctions by the US and the UN Security Council.
Trump, however, refused to relieve any of the sanctions against the North in return for several steps taken by Pyongyang toward denuclearization. That hampered further diplomacy and prompted Kim to announce an end to a moratorium on North Korea's missile tests.
The US maintains approximately 28,500 forces in South Korea, a legacy of the 1950-1953 Korean War, which ended in a truce rather than a peace agreement, technically leaving the peninsula in a state of war.
The US and South Korea have held rounds of military drills. The North has been strongly critical of the joint Washington-Seoul spring and summer drills, saying the hostile exercises are a rehearsal for an invasion.