Korea
North Korea threatens South with retaliatory measures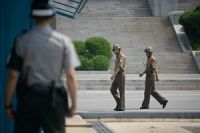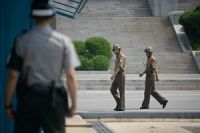 North Korea has threatened its southern neighbor with retaliatory measures, days after South Korea fired warning shots at a North Korean patrol approaching the military demarcation line (MDL) between the two countries.
"The south Korean puppet military warmongers should be mindful that such reckless military provocations in the area of MDL may invite unforeseeable retaliation strikes, which will immediately lead to a great war of justice for national reunification", the Front Command of the North's military said on Saturday, Press TV reported.
"If they continue the military provocation despite our warning, they will have to pay at the cost of their blood," it added.
On Monday, South Korean troops fired warning shots at North Korean soldiers who closely approached the heavily-guarded border separating the two countries.
The incident marks the second time South Korean troops fired warning shots at North Korean soldiers this year. North Korean soldiers have been found approaching the border on several occasions.
Also on Saturday, North Korea's military decision-making National Defense Commission (NDC) repeated its call for a stoppage of the annual South Korea-US military drills and anti-Pyongyang leaflet launches across the border.
South Korea has launched its largest joint military exercise in almost two decades with the US, despite North Korea's opposition to the move.
The 12-day Hoguk drills which involve all branches of service, including the Army, Navy, Air Force and Marine Corps, started across the country on Monday.
Last month, troops from the two countries exchanged gunfire over anti-Pyongyang propaganda leaflets that South Korean activists sent across the border by balloons.
South Korean activists regularly launch such leaflets in balloons across the border. Pyongyang says the action is a provocation.
The Korean Peninsula has been locked in a cycle of military rhetoric since the Korean War, which lasted from 1950 to 1953. No peace deal has been signed since then, meaning that Pyongyang and Seoul remain technically at war.