Korea
North, South Korea hold talks on family reunions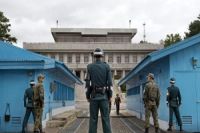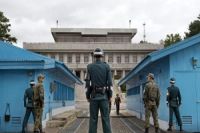 Red Cross delegates from North Korea and its neighboring South have held talks on resuming reunions for families separated by the 1950-53 war on the Korean Peninsula.
According to Press TV citing South Korea's Unification Ministry, the meeting between the three-member Red Cross delegations from the two neighbors was held on Wednesday, in Panmunjom Village, located on the de facto border between the North and the South, where the armistice between the two was signed in 1953.
The ministry said that the first meeting ended less than an hour after it began, adding the delegates were due to resume talks in the afternoon.
The meeting came after North Korea agreed late in January, to continue the reunion program, halted since 2010.
About 71,000 South Koreans, more than half of them elders aged over 80, are on Seoul's waiting list to participate in a reunion session, which hosts only around 100 people on each side.
In August 2013, Seoul and Pyongyang agreed to hold a reunion in the following month for thousands of Koreans separated since the war ended; North Korea however called the event off just four days before it started, citing "hostility" from the South.