Syria
Notorious Saudi Emir of Al-Nusra Killed in Bashkoy, Aleppo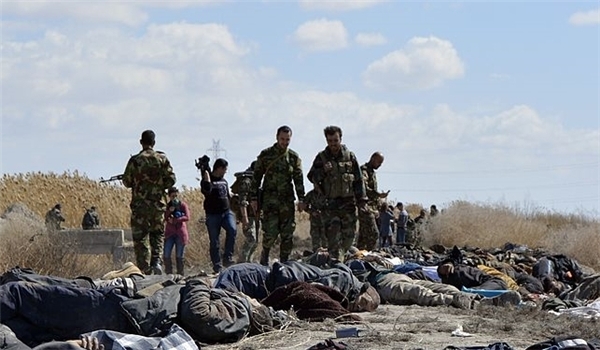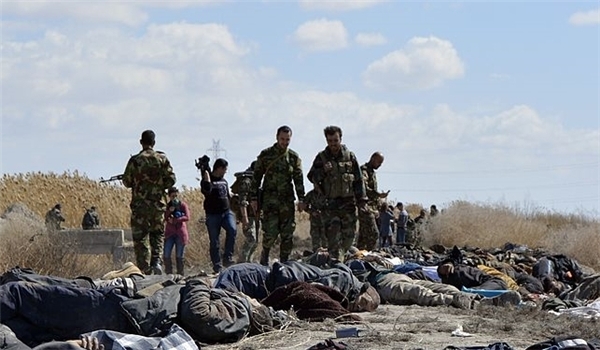 An infamous Saudi terrorist ringleader stationed in the strategic town of Bashkoy Northwest of Aleppo province was killed in a special operation of the Syrian army.
"The Syrian army units killed Abu Muthna al-Madanai, the al-Nusra Front's emir of the region," military sources said on Sunday.
The hunting operation was carried out after the terrorists failed to capture the strategic town of Bashkoy in another massive attack on army positions on Saturday.
Hundreds of terrorists staged, at least, three major attacks on army positions near Bashkoy on Friday and Saturday to win control over the town.
After repelling the first attack on Saturday, sources told FNA that the Syrian army forces killed scores of Takfiri terrorists, destroyed 7 tanks, a BMP vehicle and 23mm cannon and seized a tank.
Reports also said the Syrian army killed Mohammed A'war, the military commander of the Fajr al-Khelafa Battalions, in clashes with the terrorists in the vicinity of Bashkoy.
The Syrian army captured Bashkoy from the terrorists in February. Ever since then, the terrorists have sought hard to take back the town which is of strategic value in Northwest of Aleppo province.
The last major attack by the terrorists before the Friday and Saturday attempts was conducted on December 10, when heavy clashes erupted between Syrian army and terrorists in the vicinity of Bashkoy.