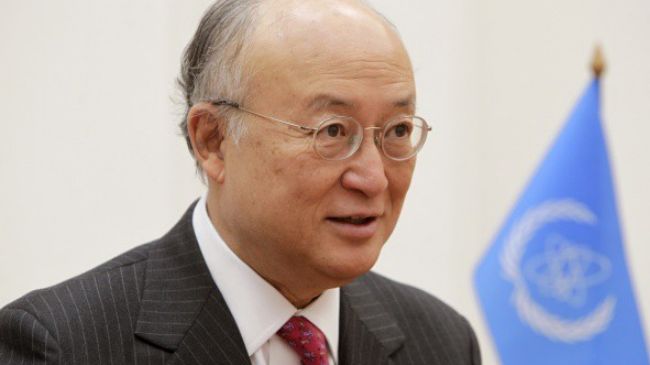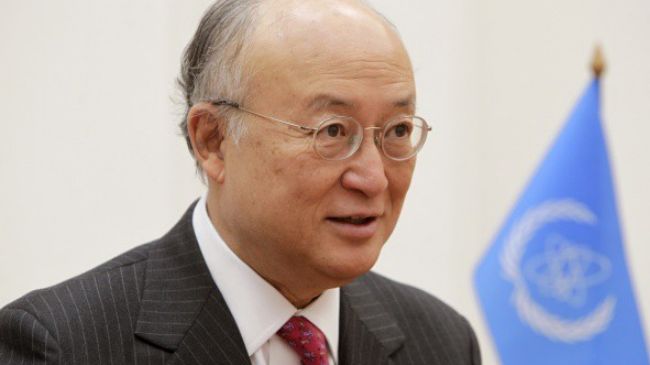 Director General of International Atomic Energy Agency (IAEA) Yukiya Amano has underlined the need for a peaceful resolution to the West's standoff with Iran over Tehran's nuclear energy program.
During a meeting with Israeli President Shimon Peres at the World Economic Forum in Switzerland on Thursday, Amano said the Vienna-based UN body has intensified "dialogue" with Iran.
Iran and the IAEA wrapped up two days of talks in the Iranian capital Tehran on January 17-18. The IAEA has announced that the next round of talks with Tehran will be held in the Iranian capital on February 13.
According to a statement released by the IAEA on Friday, Amano "made clear the Agency's commitment to dialogue, and the need to resolve issues with Iran through diplomatic means."
The comments come after Israeli Prime Minister Benjamin Netanyahu once again threatened Iran over its nuclear energy program in an election victory speech on January 23.
The United States, Israel and some of their allies have repeatedly accused Iran of pursuing non-civilian objectives in its nuclear energy program.
Iran has categorically rejected the allegation, arguing that as a committed signatory to the Non-Proliferation Treaty (NPT) and a member of the IAEA, it is entitled to develop and acquire nuclear technology for peaceful purposes.
"Amano also stressed the importance of a successful conference on a Middle East free of nuclear and other weapons of mass destruction," the IAEA statement added.
Israel, the only possessor of nuclear weapons in the Middle East, is widely known to have between 200 and 400 nuclear warheads.
The Israeli regime rejects all the regulatory international nuclear agreements — the NPT in particular — and refuses to allow its nuclear facilities to come under international regulatory inspections.