Iran
Number of Iranian pilgrims hits record high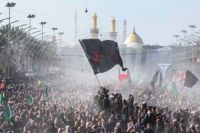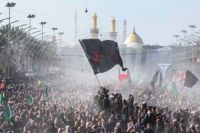 The number of Iranian pilgrims visiting the Iraqi city of Karbala this year has hit a record high of 1,500,000.
Iranian police has issued a record number of 500,000 new passports for pilgrims travelling to Iraq to mark Arba'een, said Hossein Zolfaghari, who serves as Iran's deputy interior minister for security and law enforcement.
Millions of pilgrims from around the world gathered in the holy Iraqi city of Karbala on Saturday, December 13, 2014, to commemorate Arba'een, which marks the 40th day after the anniversary of the martyrdom of the grandson of Prophet Mohammad, Imam Hussain (PBUH).
The procession marks Iranians' solidarity with the Iraqis as they are struggling to cope with terrorist attacks which are particularly aimed at their holy sites. Over the past months, the ISIL Takfiri terrorists have managed to take control of parts of Iraq.
Seeing a large exodus of pilgrims arriving from Iran this year, the Iraqi government scrapped normal visa requirements and some pilgrims entered Iraq just by submitting ordinary identity cards.
Imam Hussain (PBUH) and his 72 companions were martyred in the battle of Karbala on the day of Ashura in 680 CE, after refusing to pledge allegiance to the tyrant ruler of his time.