World News
OAS: Zelaya and interim govt. to open talks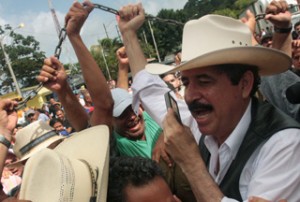 The interim Honduran government and ousted president Manuel Zelaya have agreed to open talks next week on resolving the country's political crisis, the OAS says.
"There is going to be a call to dialogue," John Biehl, an adviser to Jose Miguel Insulza the chief of the Organization of American States (OAS), said on Thursday.
"The current government will make it (call to dialogue), and the other party will accept. That has been agreed."
Although ruling out face-to-face talks between Zelaya and interim leader Roberto Micheletti for now, Biehl said meetings between representatives could begin before a delegation of regional foreign ministers and Insulza, who would be invited to attend a follow-up session, arrive in Tegucigalpa on October 7.
Biehl's comments came after an OAS mission arrived to pave the way for high-level talks aimed at resolving the crisis just five days after they were expelled by the de facto government.
Zelaya was ousted by soldiers at gunpoint on June 28 after he angered the country's political and business leaders by calling for a referendum to change the constitution.
He secretly returned to the impoverished Central American nation on September 21, surfacing in the Brazilian embassy.
The regime is seeking to arrest Zelaya, who veered to the left after his election and forged an alliance with Venezuelan President Hugo Chavez, on charges that include treason and abuse of authority.