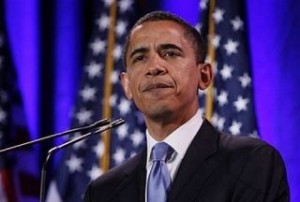 Hamas says the US president has not responded to the group's calls for him to make efforts to bring an end to the siege of the Gaza Strip.
Hamas has announced that two letters have been sent to US President Barack Obama, asking the United States to make efforts to bring an end to the Israeli siege of the Gaza Strip and the Egyptian collaboration with the blockade, but the Palestinian resistance group has received no response.
Hamas won the Palestinian parliamentary elections of January 2006, and after disputes with Fatah, took over full control of Gaza in mid-June 2007.
Ever since, Israel has subjected Gaza's 1.5 million Palestinians to a closely-monitored land, air, and sea blockade, depriving them of fuel, food, and other necessities.
Neighboring Egypt is collaborating with the blockade through its decision to keep its land and sea border with Gaza sealed.
On Sunday, Hamas spokesman Taher al-Nunu said the group's leader, the elected Palestinian Prime Minister Ismail Haniya, has written to the US president twice about the Israeli-Egyptian siege, AFP reported.
"Prime Minister Haniya asked Obama to end the siege around the Gaza Strip and on the Hamas government and to respect the result of the Palestinian elections," he said.
"He has received no answer from the president or his office," Nunu added.
However, Obama has authorized the United States' Middle East envoy, George Mitchell, to mediate in indirect negotiations between Tel Aviv and the Palestinian Authority (PA) in the West Bank.
Earlier on Sunday, following talks with Mitchell, the PA announced that the talks would be resumed, despite the fact that Israel has not agreed to halt the construction of new housing units in settlements located on occupied Palestinian territory.
But Hamas has condemned the resumption of the negotiations, arguing that the move would only serve to facilitate more "Israeli violations" against Palestinians.