Palestine
Occupation Regime Demolishes Several Palestinian Shops in the Holy Quds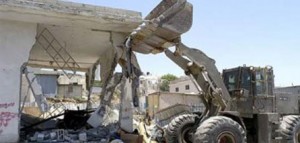 The Israeli army has bulldozed a number of shops in the al-Khalileh neighborhood, near the village of al-Nabi Samwill, in Jerusalem.
Ismaeil Abu-Rbah, the head of neighborhood, said that Israeli forces raided the neighborhood, closing its main entrances before demolishing several shops, adding that the Israeli army has, so far, demolished two shops and are, at the moment, evacuating others in order to demolish them.
According to the PNN, Israeli soldiers have been present in the area for a while now, blocking off access to parts of the neighborhood, in addition to cutting off basic goods for over a month.