Syria
Officer, Two Law-Enforcement Members Martyred in Homs and Hama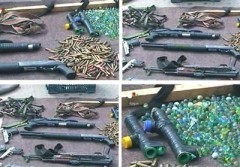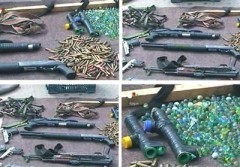 Two law-enforcement members and a civil worker at al-Jossiyeh Customs Secretariat were martyred in an ambush set by an armed terrorist group who is financed and supported by US and their regional allies in al-Qssair area in Homs Countryside.
An informed source in the governorate told SANA correspondent that the martyrs are First Lieutenant Adnan Ibrahim Ibrahim, First Lieutenant Ali Rashed Tamer and worker Abdul-Latif Mansour.
The source added that the martyrs were returning home when an armed terrorist group opened fire at them on al-Mashtal road in al-Qassir area.
A medical source in the governorate said that the National Hospital received two bodies, the first was thrown near al-Abassiyeh neighborhood in Homs and the other was found at Bab Hood neighborhood.
The source added that the two bodies bear gunshot wounds and signs of torture and mutilation.
In Hama, First Lieutenant Mohammad Mohammad was martyred while his patrol was hunting an armed terrorist group as it kidnapped worker Nabil Issa Mohammad at Kafar al-Ton Municipality in Hama Countryside.
An official source in the governorate said the patrol chased the armed terrorist group which kidnapped the worker when he was in the municipality and headed to the east of Tizin village.
The clash with the armed group resulted in the martyrdom of the First Lieutenant Mohammad and the release of the kidnapped worker.
The source added that a number of terrorists were killed and injured during the clash.
Car Loaded with Weapons Seized, Three Terrorist Members Arrested in Homs
The competent authorities in al-Khaldiyeh neighborhood in Homs seized a white Kia Rio Car with the license plate No. 418869.
The seized car was loaded with pump-action shotguns, automatic firearms, pistols, ammunition, military uniforms and torture instruments including cables and sticks, in addition to large amount of stimulant drugs.
The authorities arrested three armed terrorist members and discovered a place for kidnapping innocent individuals and torturing them in the same area.