Iran
Iraq
Middle East
Official: Erbil Enjoys Good Ties with Tehran
Ghiath al-Srouji, a security official from the Patriotic Union of Kurdistan (PUK), underlined good relations with Iran, stressing that the Iraqi Kurdistan region's leaders are in continuous contacts with Iranian officials.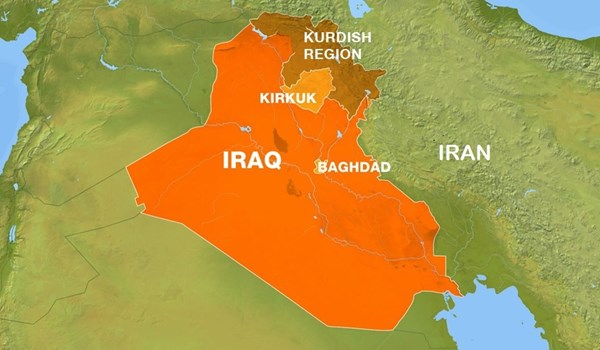 "The Kurds have good relations with the Islamic Republic based on the principle of good neighborliness and common interests," al-Srouji said in an interview with the Arabic-language Baghdad al-Youm on Monday.
He noted that "Iran does not interfere in the Kurdistan region's affairs" and decisions made by its leaders.
"The Iraqi Kurdistan region's leaders are in continued contacts with the Iranian government without any problem," al-Srouji said.
Senior Iranian and Iraqi Kurdistan region officials in a meeting in Erbil in October conferred on ways to further develop political, trade and economic relations between the two sides.
During the meeting in the Iraqi Kurdistan Region, Iran's Ambassador to Iraq Iraj Masjedi and Prime Minister of Iraqi Kurdistan Region Nechirvan Barzani underlined the need for reinvigorating and bolstering political and trade relations between the two countries.
Back in February, President of Iraqi Kurdistan's Regional Government (KRG) Masoud Barzani, in a meeting with Masjedi, said that Erbil was eager to promote ties with Tehran in all fields.
Barzani, during his meeting with Masjedi on February 21, welcomed Iran's viewpoints on deepening cooperation, saying, "We believe in regular contacts with Iran, and we are eager to promote ties in all fields."
Appreciating Iran for its helps for fighting terrorism, he said that the KRG will use all in power to step up cooperation with the country.
Iran's envoy, for his part, described bilateral ties as strategic, saying that prospects for mutual cooperation are bright.
"Iraqi Kurdistan Region's economic situation will improve in light of mutual collaboration," he said, noting that Iran has remarkable volume of trade with Iraq and Kurdistan Regional Government.
Transfer of Iran's gas to the KRG, mutual cooperation and private sector's engagement can provide suitable opportunities for boosting relations, Masjedi said.